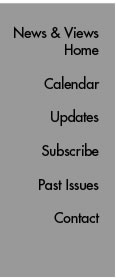 In Brief
Library Tip: Free Trial Access to JoVE
The Library has arranged a trial to JoVE, the Journal of Visualized Experiments. JoVE is a video protocols journal that is peer-reviewed and indexed in PubMed. JoVE covers medical, life science and chemical research protocols and aims to save researchers time by providing a visual protocol experience. If there is sufficient interest, the Library can propose to add this resource to next year's budget. The trial ends April 20th, so take a look and let us know what you think! Contact the library at helplib@scripps.edu or extension 8705. You can find the Library's current protocol resources on the Protocols subject guide page.


2011 Green Feat Activities Continue with Expo and E-Waste Recycling
Scripps Research California campus 2011 Green Feat events continue to commemorate the 42nd Earth Day Celebration over the next two weeks.
The third annual Green Expo will be staged Thursday, April 14, 11 AM to 2 PM, in the Immunology Building breezeway. More than 25 exhibitors will participate, representing sustainability advocacy groups and green product and service providers. The event will highlight Scripps California's campus sustainability efforts and accomplishments, and offer information on green purchasing decisions for work and home; local environmental education, outreach, and volunteer programs; and the current evidence and effects of climate change in the San Diego area.
The E-Waste Recycling Day, Wednesday, April 20, from 8 AM to 2 PM at the CIMBio (Carr B) facility, will provide an opportunity for faculty and staff to dispose of personal home electronics waste at no charge. New this year, the E-Waste Recycling Day will collect ink/toner cartridges. Other acceptable e-waste includes computer devices (terminals, monitors, keyboards, wires, etc.), laptops (batteries included), scanners, printers, fax machines, radios and stereo equipment, VCRs and DVD players, televisions, and cell phones (batteries included). Compact fluorescent light bulbs (CFLs) will not be accepted at this event.
The Green Team will collect new and gently used shoes at both Green Feat Expo and E-Waste Recycle events. Collected footwear will be donated to Souls4Soles, a nonprofit organization that cleans and ships donated shoes to underprivileged populations throughout the world. According to organizers, the Green Feat Expo and E-waste shoe collection will aid the response to victims of Japan's earthquake and tsunami. For further information on the shoe collection, e-mail sustain@scripps.edu.
For further Green Feat details, visit the Scripps Research Green Initiative webpage.


Upcoming Onsite Clinics
On April 18, 20, and 22, personnel from Sharp Rees-Stealy Medical Group will be onsite to conduct TB screenings, hepatitis B immunizations, and tetanus immunizations.
The clinics will be conducted in the 3366 Building, in Room 325, on the third floor, from 11 AM to 2 PM on Monday, Wednesday, and Friday.
No appointments are necessary. TB screening requires a 48 to 72 hour follow-up. Individuals receiving the TB screen on Monday will need to return on Wednesday. Those receiving the TB screen on Wednesday will need to return to have it read on Friday. Initiation of the TB screening process will not be available on Friday, but hepatitis B immunization and tetanus immunizations will still be offered. To learn more about these programs, see the Environmental Health & Safety Occupational Medicine web page.


News &Views Breaks for Spring
News &Views will not be published next week in conjunction with Spring Break. Weekly publication will resume on Monday, April 25.
Send comments to: mikaono[at]scripps.edu

Immunology Building Named California Single-Stream Recycling Champion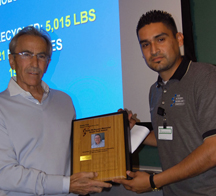 The 2011 winner of Green Feat's Single-Stream Recycling competition among Scripps California campus buildings is Immunology, which recycled 5,015 pounds of material during March. During the competition, the campus recycled 28,400 pounds in the single-stream containers. Above, Argyrios Theofilopoulos (left), chair of the Department of Immunology and Microbial Science, accepts the Keith McKeown Green Feat trophy from Mario Osornio, environment services coordinator. (Photo by Cindy Brauer.)