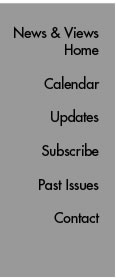 Scripps Research Scientists Organize International Conference on Alcoholism and Stress Research
Scripps Research Institute investigators are hosting an international conference "Alcoholism and Stress: A Framework for Future Treatment Strategies" from May 3 to 6, 2011, in Volterra, Italy.
"The growing health burdens of alcohol addiction and stress-related disorders are major problems worldwide, demanding novel treatment strategies and new advances in biomedical research," said Scripps Research Associate Professor Marisa Roberto, who is organizing the conference with George Koob, chair of the Committee on the Neurobiology of Addictive Disorders, and colleagues. "This conference is the only international meeting of its kind. Its primary purpose is to establish an international effort between both basic researchers and clinicians to develop prevention strategies and pharmacotherapeutic remedies for alcohol disorders."
The meeting, in Volterra—Roberto's hometown—will provide a platform for the world's preeminent scientists in alcoholism and stress research to present their latest findings through plenary lectures, symposia, posters, and roundtable discussions. Presentations will represent research in molecular and cellular biology, epidemiology, and biobehavioral and clinical alcohol research.
This is the second conference Roberto and Koob have hosted on this topic. The first was in May 2008. This time around, the organizers are placing an emphasis on the implementation of translational research in the development of treatment strategies.
"This meeting is receiving even a greater response from all over the world and presenters will come from 14 different countries," said Roberto. "Planning this event is an overwhelming process, but it has been exciting to see the broad international enthusiasm and diverse scientific interest this meeting has generated. Luckily, members of my lab are attending and contributing greatly to the success of the meeting. Dr. Maureen Cruz, for instance, has been involved in the organization of both conferences."
Support for the conference is provided by the National Institute on Alcohol Abuse and Alcoholism (NIAAA), part of the National Institutes of Health (NIH), which is sponsoring a Young Investigator Award and covering travel expenses for many U.S. delegates; the Cassa di Risparmio di Volterra Spa, La Fondazione Cassa di Risparmio di Volterra, which has provided the venue for the conference; and the Universita' di Camerino, which is handling conference registration. Additional sponsors include La Jolla Alcohol Research Inc., GlaxoSmithKline, Mitsubishi Tanabe Pharma, Society for the Study of Addiction, European Foundation for Alcohol Research; Ablycon, and Comune di Volterra.
Registration is still open. For more information on the conference, including the schedule of speakers and poster presentations, the historic venue, and picturesque Volterra, go to http://volterraconference.com. Inquiries may be emailed to info@volterraconference.com or directed to Mary Gichuhi (858) 784-7412, Marisa Gallego (858) 784-7343 (La Jolla, CA), and Laura Soverchia +39 0737 403316 (Camerino, Italy).
Send comments to: mikaono[at]scripps.edu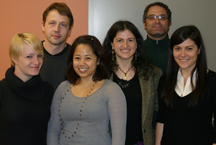 Among those helping to organize the conference in Volterra, Italy, are (left to right): Melissa Herman, Michal Bajo, Maureen Cruz, Marisa Roberto, Christopher Oleata, and Marsida Kallupi, as well as George Koob (not shown). (Photo by Cindy Brauer.)