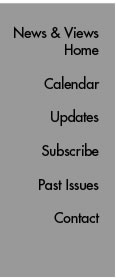 Etcetera
Scripps Research Named Among Top Institutions in Immunology
The Scripps Research Institute is the world's sixth most influential institution in immunology, according to the publication The Times Higher Education. The ranking was based on by citations-per-paper data provided by Thomson Reuters' Essential Science Indicators, which "seeks to reveal 'heavy hitters' based on per paper influence, not mere output," according to Thomson Reuters. For the complete list, see the chart, "Top Institutions in Immunology." http://www.timeshighereducation.co.uk/
story.asp?sectioncode=26&storycode=415767&c=2


SOF Announces California Postdoctoral Travel Award Winners
The Scripps Research Institute Society of Fellows (SOF) has announced the first awards in its new Postdoctoral Travel Award Program for California postdocs. The winners, who each receive a $1,000 grant to cover travel expenses to present their work at a national or international scientific conference, are:
Allen Liu, Schmid lab, presenting "Role of cargo loading as a determinant of clathrin coated pit (CCP) dynamic behavior" at the EMBO Conference-SPACIAL 2011
Vasily Rybakin, Gascoigne lab, presenting "Membrane dynamics" at the Gordon Research Conference-Molecular Membrane Biology
John Hulleman, Kelly lab, presenting "Underlying causes of Malattia Leventinese/Doyne's honeycomb retinal dystrophy" at the Gordon Research Conference-Stress Proteins in Disease
The SOF now awards up to six SOF travel grants annually in two evaluation cycles. The next application deadline is October 1. Postdocs who have never attended a scientific meeting to present their current work are encouraged to apply. Please see the SOF website for details.


Korean Health Ministry Officials Visit Scripps Research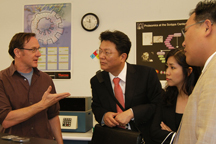 Officials from the South Korean Ministry of Health and Welfare recently visited the Scripps Research California campus. Above, Gary Siuzdak (left) , senior director of Scripps Research Center for Mass Spectrometry, explains the center's work to Weon John Kim (second from left), director general, Bureau of Health Industry; Minhye Park (second from right), business development manager, Korea Health Industry Development Institute; and Do Hyun Cho, director, Korea Healthcare Business Center. (Photo by Cindy Brauer.)