Etcetera
Julius Rebek, Jr. Awarded William H. Nichols Medal
Julius Rebek, Jr., professor at The Scripps Research Institute and director of its Skaggs Institute for Chemical Biology, has been awarded the 2011 William H. Nichols Medal by the New York section of the American Chemical Society (ACS).
Founded in 1902, the Nichols Medal honors outstanding contributions to the field of chemistry, recognizing the winner's total body of work in the previous five years. Rebek was presented the award March 18 at an ACS-New York symposium, "Chemistry on the Nanoscale."
In previous years, two other Scripps Research scientists have been awarded the medal—K.C. Nicolaou (1996) and K. Barry Sharpless (2006).


Scripps Research Hosts Special Donor Appreciation Event
Scripps California hosted a special event Saturday, March 19 to recognize local donors and guests for their continued support and commitment to scientific discoveries at the institute. Donors were provided a behind-the-scenes update of recent discoveries at Scripps Research and a sneak peek into the breakthroughs around the corner.
The event was a high tea held in the galleria of the Beckman Center for Chemical Sciences. More than 30 different chemistry labs surround the galleria area; the noise of chemistry added a touch of science to the tea.
Special recognition was given to an important group of donors, the Scripps Legacy Society. Members of the Legacy Society have supported the science of Scripps Research by making a planned gift in their estate plans. Legacy Society member Kim Doren spoke briefly about her personal experience with disease and how it inspired her to support biomedical research.
Donors were moved by a presentation by Keary Engle, a third-year graduate student in the Scripps Research Kellogg School of Science and Technology. Engle is currently pursuing a joint Ph.D./D.Phil. at Scripps Research and the University of Oxford as a Skaggs-Oxford Scholar, the only joint program with Oxford in the United States.
Scripps Research Chief Operating Officer Douglas Bingham also personally thanked donors for their continued support.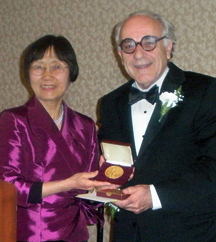 Professor Julius Rebek (right) accepts the 2011 William H. Nichols Medal from Hiroko Karan, chair of American Chemical Society-New York Section.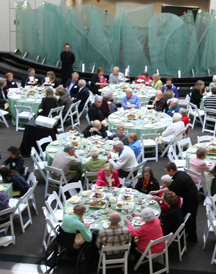 A special event on the California campus recognized local donors and guests for their support and commitment of Scripps Research. (Photo by Katie Collins.)