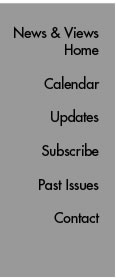 In Brief
Postdoc Training: Interview Practice and Feedback
Ryan Wheeler, manager of Career and Postdoctoral Services, will conduct an interview training session Wednesday, March 30, from 3 to 4:30 PM in the California campus graduate office conference room. During the mock interview/feedback session, held in a small group setting about once a quarter, participants will be videotaped individually while answering standard human resources questions. Facilitators and peers will provide constructive comments about participants' verbal responses and body language, according to Wheeler. Reservations are required at http://hris.scripps.edu/training/course/11.


Single-Stream Recycling Competition Now On
The competition to determine the Scripps California single-stream recycling champion is now under way, announced Mario Osornio, environmental services quality assurance and training coordinator.
Pitting each California campus building in a head-to-head contest, the competition will be decided by which building achieves the highest overall recycling rate during the month of March. The winner—to be announced during Green Feat 2011, the annual sustainability event held on the California campus in April—will receive the Keith McKeown Memorial Green Feat Award, named in honor of the late vice president of communications and public relations and founding chair of the institute's Green Initiative.
Under the newly inaugurated campus-wide single-stream recycling program, recyclables can be discarded into any blue recycle bin. Recyclable materials include:
Paper (computer paper, colored ledger, newspaper, mixed paper)
Glass (beverage containers)
Plastics "1" through "7"
Aluminum (beverage containers, foil)
Bi-Metal (food containers, cans)
Cardboard boxes
Clean lab recyclables (empty, rinsed, dried glass and plastics)
Hazardous chemicals, biologicals, and radiologicals are not allowed in the recycle bins.
According to Osornio, single-stream recycling eliminates the sorting function required by previous recycling operations. In addition, the process offers such benefits as an increased recycling rate (typically by 10 to 30 percent), fewer recycling containers, and a streamlined communication process.
For further competition details, contact Osornio at x4-2818 or email osorniom@scripps.edu .


Who to Call in an Emergency at Scripps Research
The following procedures will alert appropriate resources and facilitate a quick response when an emergency situation occurs on Scripps Research California and Florida campuses. For California employees, the following resources are available during an emergency:
The California Campus Status Hotline, at (858) 784-7000. California employees can call the hotline in any regional emergency for a recorded message on the work status of the campus. At the same time, the institute's website and email system serves as another source of information.
In case of an emergency on the California campus, dial "77." The call is connected automatically with the security operator located at the Beckman Center front entrance. The security operator will answer, take preliminary information, and then ask caller to hold as he/she is transferred to the 911 operator. It is important not to disconnect the call during this transfer; the line will be silent until the 911 operator answers (this may take more than a minute). During the call, other members of the Scripps Research Emergency Response Team will be alerted to provide additional assistance.
Florida employees should use the following resources during an emergency:
The Florida Campus Status Hotline at (561) 228-2999. Florida employees can call the hotline in any regional emergency, such as hurricanes, for a recorded message on the work status of the campus.
In case of a Florida campus emergency, call "911." Dialing 911 from a Scripps phone automatically connects the caller to Scripps Florida Security desk in Building B reception. Security will obtain the critical information and immediately contact the Scripps Emergency Response Team and the Palm Beach County emergency center, which will dispatch the appropriate team from Jupiter Police, Palm Beach County Fire Rescue, and/or EMS to the Florida campus.
Send comments to: mikaono[at]scripps.edu