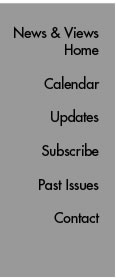 Scripps Research Hosts Prospective PhD Students
By Cindy Brauer
They arrived from prestigious colleges and universities in 26 states around the country, from Washington to Florida, Maine to California, and from countries across the globe—including Switzerland, China, Austria, Great Britain, Brazil, Taiwan, and Canada. More than one hundred of the world's most promising young science students came calling during The Scripps Research Institute's Kellogg School of Science and Technology 2011 graduate student recruitment weekends.
Designed to acquaint students with the institute's PhD program, the recent weekend programs on the La Jolla, California and Jupiter, Florida campuses included faculty presentations, campus tours, laboratory visits, interaction with postdocs, and personal interviews with professors.
James Williamson, dean of graduate and postdoctoral studies, greeted the students at a recent La Jolla recruiting weekend with an overview of the PhD program, established in 1989 and ranked by U.S. News & World Report among the top 10 graduate programs in both chemistry and the biological sciences.
Incoming Scripps Research President Michael Marletta, who will join the Scripps Research faculty in July and assume responsibilities as president and CEO next January, also welcomed the visiting students.
Williamson outlined the graduate program's guiding principles: attract the brightest students in the world, team those students with a world-class faculty, provide opportunities to make important discoveries, and emphasize interdisciplinary training, creativity, and critical thinking.
An important advantage of the Scripps Research graduate program, Williamson pointed out, is its all-volunteer teaching faculty—125 faculty on the California campus and 34 in Florida, representing every department at the institute. "The only reason they teach is they want to," he said.
"In the graduate program curriculum, students choose their own study path, selecting coursework that includes four core and two elective classes, and rotating among laboratories. The structure fosters interdisciplinary learning and exploration. "Research is not linked to a curriculum track," Williamson noted. Most student complete required classes within two years. Completing the program takes an average five years, after which some 65 percent of graduates will pursue postdoctoral studies while about 35 percent will move to industry positions.
Five faculty members—Professors M.G. Finn and Phil Baran of the Department of Chemistry, Associate Professor Erica Saphire of the Department of Immunology and Microbial Science, Assistant Professor Eros Denchi of the Department of Genetics, and Assistant Professor Anton Maximov of the Department of Cell Biology—provided students quick reviews of the breadth of research and noted scientific leadership at Scripps Research. Following the introductory session, students began their tours of the campus and lab visits, strongly encouraged by Williamson to visit and speak directly with scientists and postdocs, particularly in their fields of interest. "Make the most of the day. Ask the hard questions and have fun," he advised them.
The Florida campus recruitment weekends—which this year attracted 27 prospective graduate students—offered similar activities and included a poster session, said William Roush, associate dean of the Kellogg School of Science and Technology, professor in the Department of Chemistry, and executive director of the Translational Research Institute Medical Chemistry Division.
"I have received tremendous positive feedback from the students who visited," said Roush. "I would say that the recruiting effort this year has been fabulous—tremendous candidates and widespread enthusiasm on the part of our faculty and students."
Send comments to: mikaono[at]scripps.edu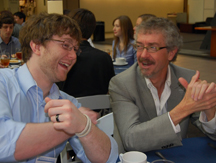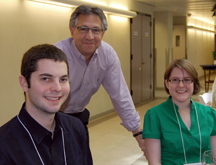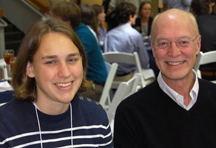 Prospective students visit with Scripps Research faculty in several recent "recruitment weekends." Participants included: (top) Chris Evan of Eastern Washington University and James Williamson, Scripps Research dean of graduate and postdoctoral studies; (middle) Spencer Clark of Brown University, incoming Scripps Research president Michael Marletta, and Katherine Southard of Rensselaer Polytechnic Institute; and (bottom) Amy Register of UC Berkeley and Dale Boger, Scripps Research chemistry professor. (Photos by Cindy Brauer.)