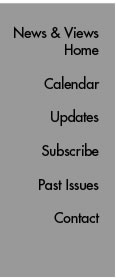 In Brief
Glen Nemerow to Speak March 9 in Faculty Lecture Series
Professor Glen Nemerow will speak on "Insights in Adenovirus Gene Delivery from Structure Analysis" Wednesday, March 9 in the Faculty Lecture Series on the California campus. The lecture will be held at 5 PM in the Valerie Timken Amphitheater, Green Hospital. A reception will follow in the Arnold and Mabel Beckman building, first floor. For more information, see Nemerow's Faculty Lecture Series webpage.


Career Workshop Series: Career Adventures Beyond the Bench
Five former postdocs will be featured panelists in a Career Workshop Series presentation, Thursday, March 10, 1 to 2 PM in the Keck Amphitheater on the Scripps California campus. Titled "Career Adventures Beyond the Bench," the event is sponsored by the Society of Fellows and the Scripps Research Career and Postdoctoral Services Office office.
Panelists will share practical advice related to their own career transitions, covering descriptions of their current jobs, opportunities in the field, training opportunities, and additional career resources. The panelists include:
David Delano, product manager, Illumina
Shahin Farshchi, senior associate, Lux Capital Management
Jonathan Gitlin, science policy analyst, National Institutes of Health
Sascha Hasan, vice president and COO, Sanguine Biosciences, Inc.
Roshni Mitra Chintalapati, patent technical writer, Isis Pharmaceuticals
A question and answer session and networking reception will follow the presentations. No RSVP required; refreshments provided.


"Meet the Alumni": Science Policy Analyst Jonathan Gitlin
Jonathan Gitlin, science policy analyst at the National Institutes of Health, will participate in the Scripps Research "Meet the Alumni" series on Thursday, March 10 at 4 PM on the California campus.
In this relaxed discussion, Gitlin will speak about what he's up to now and how he got there from here. Gitlin currently works within the Policy and Program Analysis Branch of the Office of the Director at the National Human Genome Research Institute. Additionally, he is a contributing writer for the online publication Ars Technica. He received his BSc in Pharmacology from King's College London, and his PhD in Pharmacology from Imperial College London, following which he conducted research into cardiovascular disease at Scripps Research and the University of Kentucky. He has also taught International Science and Technology Policy at the University of Kentucky's Patterson School of Diplomacy and International Commerce.
The event, sponsored by the Career and Postdoctoral Services Office and the Network for Women in Science, will be held in the Faculty Club. Registration is required: http://hris.scripps.edu/training/. Light refreshments provided.


Send comments to: mikaono[at]scripps.edu

Newspaper Cast-Offs Take Center Stage

Old newspapers, collected in a California ScrippsAssists drive, became artists' media in creating stage props and set designs for a production of Peter Rabbit by a local nonprofit children's theater group, Classic Youth Theatre (CYT). A second ScrippsAssists newspaper collection may be held to support the CYT's next production, The Lion, the Witch, and the Wardrobe.