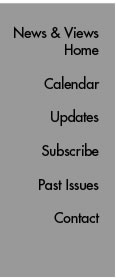 In Brief
Cindy Ehlers Honored with Marsh Lectureship
Cindy L. Ehlers, professor in the Molecular and Integrative Neurosciences department and co-director of The Scripps Alcohol Research Center, has been awarded the 2011 Wendy & Stanley Marsh 3 Endowed Lectureship in Pharmacology and Neurochemistry of Substance Abuse/Addition Disorder. The lecture at the Texas Tech University Sciences Center's School of Pharmacy is scheduled for early March.
Ehlers studies the role genetics plays in the development of addiction to substances in clinical studies and animal models; she also investigates whether genetic, ethnic, and/or racial diversities exist in physiologic markers of risk for substance dependence.


NWiS to Host "Meet the Faculty" Happy Hour
The Network for Women in Science (NWiS) will host a second annual "Happy Hour: Meet the New Faculty" on Thursday, January 27, 5 PM, in the Faculty Club, Tennis Court room. The event is open to all members of the Scripps Research community interested in meeting new faculty members, particularly new students looking for Ph.D. advisors, postdocs, and established faculty interested in collaborating.
The gathering's format will be similar to the 2009 event. Refreshments, including appetizers and drinks, will be served. New Scripps Research faculty members who plan to attend are asked to RSVP to Johanna Heideker at heideker@scripps.edu.


Counseling Services: "Ten Tips" to Survive the Holidays
The Counseling and Psychological Services Department offers advice in coping with the holiday blues in the newest installment of its Ten Tips series. "Ten Tips for Surviving the Holidays" provides guidelines for those for whom "the last weeks of the year may represent loneliness, loss, and family tension," explains its author, Scripps Research Counseling Psychologist Daphne Lurie. For her tips, see the full article, available on the Counseling and Psychological Services website.


News & Views Home for the Holidays
Due to the Christmas and New Year's holidays, News & Views will not be published December 27 or January 3. Regular weekly publication will resume Monday, January 10.
Send comments to: mikaono[at]scripps.edu

Santa's Truck Arrives for Gift Pick-up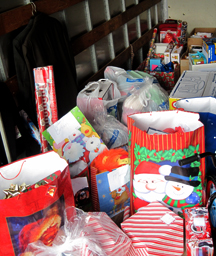 Toys, clothes, and other gifts for disadvantaged families collected through ScrippsAssists 2010 Adopt-a-Family program were loaded onto the Home Start agency's "Santa" truck December 14. The gifts were donated by several Scripps Research departments and groups, each "adopting" a family with children. The ScrippsAssists annual Adopt-a-Family program works with Home Start, an organization that provides services to children living in poverty, to match families in need with volunteers.