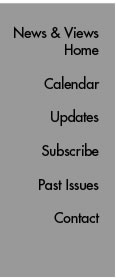 Etcetera
Scripps Research Study Ranked Among Time Magazine's Top 10 Medical Breakthroughs for 2010
Time magazine ranked a paper on a gene expression test for coronary disease by Scripps Research Institute investigators number seven in the top 10 medical breakthroughs for 2010. The paper, by Eric J. Topol, Nicholas Schork, and Mary Winn, of Scripps Research and the Translational Sciences Institute (a collaboration between Scripps Research, Scripps Health, and other institutions in San Diego), and colleagues, was published in the Annals of Internal Medicine (Volume 153, Number 7, Oct. 5, 2010).
According to the Time article, the researchers identified a preliminary panel of 23 genes "that code for blood proteins," which improved by 16 percent the ability to classify heart disease patients at high or low risk compared to traditional methods alone. While not a heart-attack predictor, the blood test "could serve as an early warning call for patients who register as high risk," said Time. The Time article is available at http://www.time.com/time/specials/packages/article/
0,28804,2035319_2034529_2034522,00.html.


Cindy Ehlers Honored with Marsh Lectureship
Cindy L. Ehlers, professor in the Molecular and Integrative Neurosciences department and co-director of The Scripps Alcohol Research Center, has been awarded the 2011 Wendy & Stanley Marsh 3 Endowed Lectureship in Pharmacology and Neurochemistry of Substance Abuse/Addition Disorder. The lecture at the Texas Tech University Sciences Center's School of Pharmacy is scheduled for early March.
Ehlers studies the role genetics plays in the development of addiction to substances in clinical studies and animal models; she also investigates whether genetic, ethnic, and/or racial diversities exist in physiologic markers of risk for substance dependence.
Send comments to: mikaono[at]scripps.edu