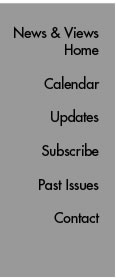 In Brief
Faculty Lecture Series Committee Announces 2010-2011 Speakers
The Faculty Lecture Series Committee is pleased to announce the speakers for the 2010-2011 Faculty Lecture Series. Speakers will include:
Associate Professor Phil Dawson, who will speak on "Synthetic Protein Chemistry" on Wednesday, November 10
Jamie Williamson, dean of graduate and postgraduate studies, who will speak on "Ribosome Assembly" on Wednesday, January 12
Associate Professor Marisa Roberto, who will speak on "Alcohol Dependence: Synaptic Neuro Adaptations in the Amygdala" on Wednesday, February 9
Professor Glen Nemerow, who will speak on "Insights into Adenovirus Gene Delivery from Structural Analysis" on Wednesday, March 9
Charles Weissmann, chair of the Department of Infectology, who will speak on "Darwinian Evolution of Prions" on Wednesday, April 13
Professor Velia Fowler, who will speak on "Actin Filament Architecture Constrains Cell Morphology and Physiology" on Wednesday, May 11
All lectures in the series, which was arranged by the Faculty Lecture Series Committee (including Professors Dennis Burton, Frank Chisari, Benjamin Cravatt, George Koob, Jack Johnson, and Larry Gerace (committee chair)) will take place in the Timken Amphitheater, Green Hospital, in La Jolla, CA, at 5 PM, with a reception to follow in the Arnold and Mabel Beckman building, first floor.


Fall Craft Fair and Raffle to Be Held December 2
The annual ScrippsAssists Fall Craft Fair and Raffle will be held Thursday, December 2 from 11 AM to 1:30 PM on the Immunology Building breezeway, La Jolla, CA campus. The Craft Fair offers the opportunity to get some of your holiday shopping done and support the on-campus charitable efforts of ScrippsAssists, the Scripps Research employee volunteer group.
At the Craft Fair, about 30 Scripps Research employees/crafters will sell hand-made articles including: knitted and quilted items; jewelry; decoupage gift items; Jalapeno pepper jam; photo albums; crafts made from wood; painted sea shells; catnip toys; decorative bottles; photographs; amazing Amino Acid beads for making molecular jewelry; all-occasion and holiday cards; custom embroidery; beaded flatware serving pieces; landscape designs; illustrated children's books; pottery; hand-painted Christmas ornaments and other holiday decorations; out-of-this-world handmade chocolates; caramel apples; baked treats; and more. You can see the location of your favorite exhibitors by viewing the Craft Fair flyer at: http://www.scripps.edu/dist/Fall_Floorplan_2010.pdf.
In addition, you will be able to buy $1 raffle tickets at the event for a chance to win prizes donated by vendors, including two grand prizes—two round-trip airline tickets for anywhere Southwest Airlines flies courtesy of Culinary Concepts, and, new this year, a $500 store gift card courtesy of Bowers Jewelers in La Jolla. Other prizes include: $25 gift cards from Vons, $25 gift cards from Ralphs, tickets to the Birch Aquarium, one-day passes to the San Diego Zoo, a jewelry pendant or necklace donated by Sue & Dave Revak, and a special donation from the San Diego County Credit Union.
Raffle tickets are only sold at the Craft Fair and there is no limit to the number of tickets you may buy. You need not be present to win a prize. Every dollar collected from the raffle is given to ScrippsAssists to continue their good work in the San Diego County community.
Send comments to: mikaono[at]scripps.edu