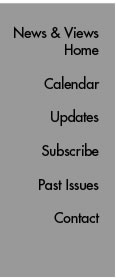 In Brief
Don't Miss the SOF Fall Research Symposium
The Society of Fellows (SOF) welcomes faculty, staff, and students to this year's Fall Research Symposium, which features presentations by junior scientists, on Thursday, September 30, on the La Jolla campus. Topics will include chemistry, chemical biology, structural biology, molecular biology, cell biology, immunology, molecular and experimental medicine, neurosciences, and translational research. Research abstracts will be presented during an oral session (Beckman Building Keck Amphitheater, 11:30 AM – 4:30 PM) and a moderated poster session (Beckman galleria, 4:30 – 6 PM; posters will be available for viewing starting at 10 AM). Presenters in both sessions will compete for cash prizes awarded for best in category.
Keynote lectures will feature Associate Professor Michael Burkart of the University of California, San Diego (UCSD), who will speak on "Modular Thinking – Explorations in Activity and Function," from 11:30 AM to 12:30 PM, and Jay T. Groves of UC Berkeley, who will speak on "Spatial Organization and the Mechanics of Signal Transduction in Cell Membranes," from 2:30 to 3:30 PM. Both of these lectures will take place in the Beckman building Keck Amphitheater.
For more information on the event, which is co-sponsored by the Career and Postdoctoral Services Office, see SOF's Fall Research Symposium webpage.


Lunch & Learn: Got Friends?
Daphne Lurie, director of the Counseling and Psychological Services Department, will give a presentation, "Got Friends?: The Value of Social Support and Belonging," on Wednesday, September 29, from noon to 1 PM, as part of the ongoing Lunch & Learn seminar series for employees. The latest research on social support tells us that sustained friendship is not only important to our emotional well-being; it is also a significant predictor of health and happiness. In this lunchtime seminar, participants will gain: an awareness of the far-reaching benefits of friendship, ideas for how to develop new friendships, and specific tools to strengthen and expand your social network. The event, arranged by the Counseling and Psychological Services Department, will be held in the Keck Amphitheater, Beckman Building, La Jolla campus.
Send comments to: mikaono[at]scripps.edu

Scripps Research Celebrates National Postdoc Appreciation Week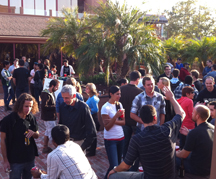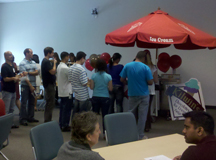 Events celebrating National Postdoc Appreciation Week included a Resource Center Open House complete with free coffee, donuts, and raffle prizes in the California Office of Postdoctoral Services, a California Society of Fellows happy hour (top), and an ice cream social with raffle on the Florida campus (bottom).