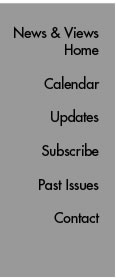 In Brief
Career Seminar Series: "Networking for International Scientists"
The Society of Fellows and the Career and Postdoctoral Services Office are hosting a special networking presentation "Networking for International Scientists," presented by Peggy Wallace of Making Conversation, LLC, on Wednesday September 22, from 1:30 to 3 PM. All postdocs and graduate students, especially foreign nationals, are welcome to attend. Come learn practical tips and refresh your interpersonal skills in a workshop designed to demystify the U.S. business networking environment. Topics include: establishing rapport, understanding verbal and non-verbal cues, and adapting to various communication styles. Also learn tips for becoming more socially adept, making a positive first impression, and persuasively presenting yourself and your skills. The event will be held in the Keck Amphitheater, Beckman Center, La Jolla campus. Please RSVP at http://hris.scripps.edu/training/course/11 .


San Diego Lab Management Course Open for Registration
Scripps Research, Sanford-Burnham Institute, and UCSD are proud to host the fourth San Diego Lab Management Course on Friday, October 8 and Saturday, October 9 at the Sanford-Burnham Institute. This two-day course is designed to equip postdocs and junior faculty with the knowledge and professional competencies to lead innovative and productive research programs.
Enrollment is open to postdocs and junior faculty from the Torrey Pines Mesa research institutes and other UC campuses, and is limited to 130 participants. The event has sold out in previous years, so register early.
The registration fee is $100 for Scripps Research participants. (Note this course is eligible for the Society of Fellows Postdoc Course Reimbursement Program; see http://www.scripps.edu/services/postdocs/career/coursereimbursement)
For additional details, see the course website and online registration page. For News&Views stories on previous years' courses, see "New Symposium Offers Insights into Scientific Leadership and Lab Management" and "Learning to Lead.". For additional information, contact Jennifer Oh at (858) 534-6632 or jmoh@ucsd.edu or Ryan Wheeler, (858) 784-9740 or rwheeler@scripps.edu.


Don't Let the Flu Strike You: Get Your Flu Shot
The Human Resources Department is hosting a flu immunization clinic on Thursday, September 23 and Friday, September 24, from 9 AM to 5 PM in Room 205, 3377 North Torrey Pines Court. Scripps Research employees, research associates, and graduate students are eligible to receive a free flu immunization; family members are not eligible. This immunization will include vaccination against H1N1 and other flu strains in one shot. This is the only time that flu immunizations will be offered on campus. If you need more information please contact Nancy Boccio, x4-8293 or nboccio@scripps.edu.


Calendar Office: Extend Your Recurring California Room Reservations
The Calendar Office has announced the procedure to extend recurring room reservations on the California campus for the next year. During the week of September 20, the Calendar Office will be accepting extensions, through June 30, 2011, for existing recurring room reservations.
During that week you will be able to go online and extend your existing reservation(s). If you are interested in changing your recurring reservation to another day, time, or room, you will be able to do that after all existing reservations have been finalized. For instructions on how to extend your reservations go to this link: http://www.scripps.edu/calendar/recurring.html
For general information and instructions on how to use the calendar system, sign up for a class at: http://hris.scripps.edu/training/class/CAL0110CAL. The next classes are being offered on:
Tuesday, September 14, 2 to 3 PM
Friday, September 17, 10 to 11:30 AM
Monday, September 20, 2 to 3 PM
Wednesday, September 22, 10 to 11:30 AM


Emergency Number Reminders
CALIFORNIA
For California employees, the following resources are available during an emergency:
The California Campus Status Hotline, at (858) 784-7000. California employees can call the hotline in any regional emergency for a recorded message on the work status of the campus. The institute's website and email system will continue to be another source of information.
In case of an emergency on the California campus, dial "77." When you dial "77" the phone automatically is connected with the security operator located at the Beckman Center front entrance. The security operator will answer, take some preliminary information, and then tell you to hold while he/she transfers you to the 911 operator. It is important that you not hang up during this transfer; the line will be silent until the 911 operator answers (this may take more than a minute). During your call, other members of the Scripps Research Emergency Response Team will be alerted, so they can also provide assistance.
FLORIDA
Florida employees should look to the following resources during an emergency:
The Florida Campus Status Hotline, at (561) 228-2999. Florida employees can call the hotline in any regional emergency, such as hurricanes, for a recorded message on the work status of the campus.
In case of a Florida campus emergency, call "911." Dialing 911 from a Scripps phone automatically connects you to Scripps Florida Security desk in Building B reception. Security will obtain the critical information from you. They will immediately contact the Scripps Emergency Response Team and the Palm Beach County emergency center who will dispatch the appropriate team from Jupiter Police, Palm Beach County Fire Rescue, and/or EMS to the Florida campus.
For more information about emergency planning on the Scripps California campus, contact Carolyn Keierleber, at (858) 784-8240; for the Florida campus, contact Larry Wylie, at (561) 228-2041.
Send comments to: mikaono[at]scripps.edu