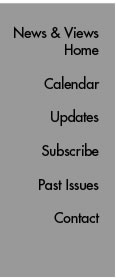 In Brief
Environmental Services Recognizes Outstanding Employees
Environmental Services honored a number of employees as part of the department's Recognition Day on Thursday, September 2.
"Each team member in EVS is valuable and contributes to team success," said Larry DeGreif, director of Environmental Services. "The individuals recognized this year made exceptional contributions in providing service to our customers."
This year's winners were:
Employee of the year: Carina Balignot
Team work: Sara Hernandez and Nerio Retonel
Professional appearance: Carmelita Provins and Maria Pena
Positive attitude: Daniel Jordan and Felipe Paredes
Perfect attendance: Tina Banuelos; Abel Camey; Margaret Peterson; Joselito Miranda; Antonio Bujo; Carmelita Provins; Felipe Paredes; Esperanza Villagomez


Don't Miss the SOF Fall Research Symposium The Society of Fellows (SOF) welcomes faculty, staff, and students to this year's Fall Research Symposium, which features presentations by junior scientists, on Thursday, September 30, on the La Jolla campus. Topics will include chemistry, chemical biology, structural biology, molecular biology, cell biology, immunology, molecular and experimental medicine, neurosciences, and translational research. Research abstracts will be presented during an oral session (Beckman Building Keck Amphitheater, 11:30 AM – 4:30 PM) and a moderated poster session (Beckman galleria, 4:30 - 6 PM; posters will be available for viewing starting at 10 AM). Presenters in both sessions will compete for cash prizes awarded for best in category.
Keynote lectures will feature Associate Professor Michael Burkart of the University of California, San Diego (UCSD), from 11:30 AM to 12:30 PM, and Jay T. Groves of UC Berkeley, from 2:30 to 3:30 PM. Both of these lectures will take place in the Beckman building Keck Amphitheater.
For more information on the event, which is co-sponsored by the Career and Postdoctoral Services Office, see SOF's Fall Research Symposium webpage.


San Diego Lab Management Course Open for Registration Scripps Research, Sanford-Burnham Institute, and UCSD are proud to host the fourth San Diego Lab Management Course on Friday, October 8 and Saturday, October 9 at the Sanford-Burnham Institute. This two-day course is designed to equip postdocs and junior faculty with the knowledge and professional competencies to lead innovative and productive research programs.
Enrollment is open to postdocs and junior faculty from the Torrey Pines Mesa research institutes and other UC campuses, and is limited to 130 participants. The event has sold out in previous years, so register early.
The registration fee is $100 for Scripps Research participants. (Note this course is eligible for the Society of Fellows Postdoc Course Reimbursement Program; see http://www.scripps.edu/services/postdocs/career/coursereimbursement)
For additional details, see the course website and online registration page. For News&Views stories on previous years' courses, see "New Symposium Offers Insights into Scientific Leadership and Lab Management" and "Learning to Lead." For additional information, contact Jennifer Oh at (858) 534-6632 or jmoh@ucsd.edu or Ryan Wheeler, (858) 784-9740 or rwheeler@scripps.edu.


Benefits: Passport Unlimited Cards Have Arrived During these tough economic times, everyone tries to save where they can. Now you can save on shopping, dining, and travel with the new Passport Unlimited Card. Benefits Administration sent cards through interoffice mail to all benefit eligible participants last week, along with information about the benefits that are offered through the Passport Unlimited program.
The Passport Card offers local vendor employee discounts and restaurant savings in the San Diego area. Florida and California staff can also take advantage of national discounts. You'll find everything between complimentary restaurant savings to discounted pet medications at your fingertips. All you need to do is register your Passport Card at www.passportlifestyle.com and you can view a complete list of participating companies and restaurants. There are no limits to how often you can use your card, and you now have the opportunity to suggest a business that you'd like to see in the program by either calling Passport's Member Relations Team at (800) 410-4211 or emailing them at support@passportunlimited.com. You can also use Passport's mobile website when you are on the go at www.passportlifestyle.com/mobile.
If you have any questions regarding this benefit, please contact Benefits Administration at x4-8487 or benefits@scripps.edu.


Calendar Office: Get Ready for California Recurring Room Reservations The Calendar Office has announced the procedure to extend recurring room reservations on the California campus for the next year. During the week of September 20, the Calendar Office will be accepting extensions, through June 30, 2011, for existing recurring room reservations.
During that week you will be able to go online and extend your existing reservation(s). If you are interested in changing your recurring reservation to another day, time, or room, you will be able to do that after all existing reservations have been finalized. For instructions on how to extend your reservations go to this link: http://www.scripps.edu/calendar/recurring.html
For general information and instructions on how to use the calendar system, sign up for a class at: http://hris.scripps.edu/training/class/CAL0110CAL. The next classes are being offered on:
Tuesday, September 14, 2 to 3 PM
Friday, September 17, 10 to 11:30 AM
Monday, September 20, 2 to 3 PM
Wednesday, September 22, 10 to 11:30 AM


Upcoming Onsite Clinics
On Monday, September 13, Wednesday, September 15, and Friday, September 17, personnel from Sharp Rees-Stealy Medical Group will be onsite to conduct TB screenings, hepatitis B immunizations, serum draws, and tetanus immunizations. The clinics will be conducted in the 3366 Building, in Room 325, on the third floor, from 11 AM to 2 PM on Monday, Wednesday, and Friday. No appointments are necessary. TB screening requires a 48 to 72 hour follow-up. Individuals receiving the TB screen on Monday will need to return on Wednesday, and individuals screened on Wednesday, will need to return on Friday. Initiation of the TB screening process will not be available on Friday, but hepatitis B immunization, serum draws, and tetanus immunizations will be. To learn more about these programs, see the Environmental Health & Safety Occupational Medicine web page.
Send comments to: mikaono[at]scripps.edu

The Buzz on the Great 2010 Grown-Up Spelling Bee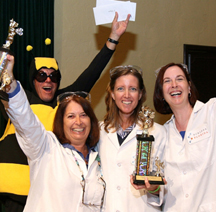 The returning champions from Scripps Florida will again be competing in the Great Grown-Up Spelling Bee, an event benefiting the Literacy Coalition of Palm Beach County. The 2010 competition is scheduled for Thursday September 16, 6 PM, at the Harriet Himmel Theater, CityPlace, West Palm Beach. Cheering is welcome and free public seating is available in the "bee watching" area upstairs.