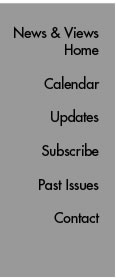 In Brief
The Graduate Office Has Moved
The Graduate Office has moved to Suite 300 on the third floor of 3377 N. Torrey Pines Court. Phone numbers, including the main line of (858) 784-8469, and the mail code, TPC-19, will remain the same.


News&Views Observes Labor Day
News&Views will not be published next week due to the Labor Day holiday. Regular, weekly publication will resume with the Monday, September 13, 2010, issue.
Send comments to: mikaono[at]scripps.edu