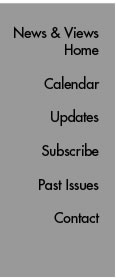 Etcetera
Dale Boger Named ACS Fellow
Scripps Research Institute Professor Dale Boger has been named a new fellow of the American Chemical Society (ACS), in honor of his outstanding achievements in and contributions to the science, the profession, and service to the society. Boger, who is Richard and Alice Cramer Professor of Chemistry and a member of the Skaggs Institute for Chemical Biology at Scripps Research, works on the total synthesis of biologically active natural products using the tools of organic synthesis to identify, imitate, understand, exploit, and sometimes surpass what nature provides. As a new fellow, he will be among those honored at the ACS meeting in Boston later this month.
Send comments to: mikaono[at]scripps.edu

Senator George LeMieux Visits Scripps Florida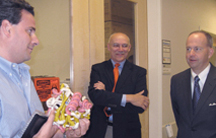 U.S. Senator George LeMieux (right) receives insight into target therapeutics while touring the High Throughput Screening Laboratory on his recent visit to Scripps Florida. Also pictured are Senior Scientific Director Peter Hodder (left) and Vice President for Scientific Operations Harry Orf.

Interns Present Their Summer's Work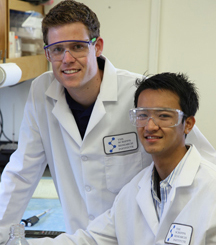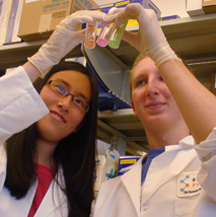 In California, high school and undergraduate interns presented their summer's research to their peers, mentors, and supporters on August 12 and 13 (including, top, interns Ryan Kast (left) of UCSD and Binh Ho of Patrick Henry High School); in Florida, high school students and teachers wrapped up their summer program with presentations on July 23 (including, bottom, Kenan Fellow high school interns Stephanie Heung (left) and Alec McBee). Interns spoke on a wide variety of projects they conducted in the lab over the summer months—from AIDS research to cancer biology.