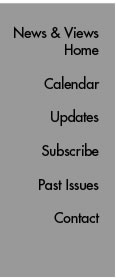 Scripps Research Scientists Share $2 Million in Florida State Research Grants
By Eric Sauter
The Florida Biomedical Research Program has awarded $2 million in biomedical research grants to three scientists from the Florida campus of The Scripps Research Institute.
This year's awards went to Glenn Micalizio, an associate professor in the Scripps Research Department of Chemistry, who will receive $1,199,600 over five years; Thomas Bannister, assistant professor of medicinal chemistry and associate scientific director of Scripps Florida's Translational Research Institute, who won a grant of $400,000 over three years; and Douglas Kojetin, an assistant professor in the Molecular Therapeutics Department, who also won $400,000 over three years.
The grants will begin on July 1, 2010.
The highly competitive grants from the Florida Biomedical Research Programs support innovative research into the prevention, diagnosis, treatment, and/or cure of cancer and tobacco-related diseases. Funding comes primarily from taxes collected from the sale of tobacco products.
Exploring Innovative Cancer Treatments
Micalizio's five-year grant will make it possible for him to study naturally occurring anticancer agents that could become potential chemotherapeutic agents.
"We're looking at a protein called Hsp90, which is of considerable interest in cancer," Micalizio said, "because it plays a central role in controlling the function of a host of other proteins that are known to be oncogenic or cancer causing. Inhibiting Hsp90 results in the selective destruction of cancer cells. Unfortunately, the chemical structures of various natural products have proven difficult to optimize as therapeutic agents. Our aim is to develop ways to overcome those barriers. It's an exciting opportunity for chemists to help drive the search for the next generation of anticancer chemotherapeutic agents."
For Bannister, the grant is an opportunity to pursue an equally novel form of potential cancer treatment as part of a collaborative research program in cancer therapy with William Roush, who is a professor in the Department of Chemistry, executive director of the Translational Research Institute Medical Chemistry Division, and associate dean of the Kellogg School of Science and Technology, and John Cleveland, chair of the Department of Cancer Biology.
"Cancer cells differ from most healthy cells in using one pathway, called glycolysis, to acquire nearly all of their energy from glucose, " Bannister said. "The pathway makes lactic acid, a byproduct they must pump out in order to survive. Our research is aimed at improving molecules we have discovered that block lactic acid export and acidify the tumor cells. Cancer cells also recognize our compounds as an amino acid that they need in abundance. This tricks tumor cells into taking in something that will kill them."
The major focus of Kojetin's work is to understand how the structural dynamics of proteins contribute to their biological function. Modulation of a protein's dynamic shape or conformation represents an avenue for drug discovery.
"For this grant, we're looking at nuclear receptor transcription factor proteins, which are receptors for small molecules and important drug discovery targets for a variety of human diseases, including cancer and type II diabetes," he said. "When compounds bind to these receptors, other proteins called transcriptional co-regulator proteins also bind, all of which helps regulate expression of target genes. Hopefully, our work will help in the development of drugs targeting a specific receptor we've identified as promising."
The Florida Biomedical Research Programs are administered by the Florida Department of Health and Office of Public Health Research. In total, this year the Florida Department of Health awarded more than $45 million to more than 70 Florida scientists. Micalizio and Kojetin were funded through the James and Esther King Biomedical Research Program for tobacco-related projects, which awarded 42 grants out of 146 applications; Bannister was funded through the Bankhead-Coley Cancer Research Program, which awarded 35 grants from 186 applications.
Send comments to: mikaono[at]scripps.edu

---
The highly competitive grants from the Florida Biomedical Research Programs support innovative research into the prevention, diagnosis, treatment, and/or cure of cancer and tobacco-related diseases.
---