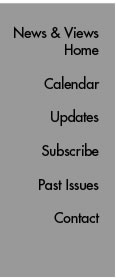 In Brief
Norman Klinman Memorial Scheduled for May 28
The Scripps Research community is invited to a memorial service commemorating the accomplishments of Professor Emeritus Norman Klinman on Friday, May 28, from 4 to 5 PM, in the Tennis Court Room of the Conference Center (Faculty Club). Light refreshments will be served.


Upcoming Onsite Clinics
On Monday, May 24, Wednesday, May 26, and Friday, May 28, personnel from Sharp Rees-Stealy Medical Group will be onsite to conduct TB screenings, hepatitis B immunizations, serum draws, and tetanus immunizations.
The clinics will be conducted in the 3366 Building, in Room 325, on the third floor, from 11 AM to 2 PM on Monday, Wednesday, and Friday.
No appointments are necessary. TB screening requires a 48 to 72 hour follow-up. Individuals receiving the TB screen on Monday will need to return on Wednesday, and individuals screened on Wednesday, will need to return on Friday. Initiation of the TB screening process will not be available on Friday, but hepatitis B immunization, serum draws, and Tetanus immunizations will be. To learn more about these programs, see the Environmental Health & Safety Occupational Medicine web page.


Emergency Number Reminders
CALIFORNIA
For California employees, the following resources are available during an emergency:
The California Campus Status Hotline, at (858) 784-7000. California employees can call the hotline in any regional emergency for a recorded message on the work status of the campus. The institute's website and email system will continue to be another source of information.
In case of an emergency on the California campus, dial "77." When you dial "77" the phone automatically is connected with the security operator located at the Beckman Center front entrance. The security operator will answer, take some preliminary information, and then tell you to hold while he/she transfers you to the 911 operator. It is important that you not hang up during this transfer; the line will be silent until the 911 operator answers (this may take more than a minute). During your call, other members of the Scripps Research Emergency Response Team will be alerted, so they can also provide assistance.
FLORIDA
Florida employees should look to the following resources during an emergency:
The Florida Campus Status Hotline, at (561) 228-2999. Florida employees can call the hotline in any regional emergency, such as hurricanes, for a recorded message on the work status of the campus.
In case of a Florida campus emergency, call "911." Dialing 911 from a Scripps phone automatically connects you to Scripps Florida Security desk in Building B reception. Security will obtain the critical information from you. They will immediately contact the Scripps Emergency Response Team and the Palm Beach County emergency center who will dispatch the appropriate team from Jupiter Police, Palm Beach County Fire Rescue, and/or EMS to the Florida campus.
For more information about emergency planning on the Scripps California campus, contact Carolyn Keierleber, Ph.D., at (858) 784-8240; for the Florida campus, contact Larry Wylie, Ph.D., at (561) 228-2041.


News&Views to Begin Summer Publication Schedule
News&Views will not be published next week due to the Memorial Day holiday. From Monday, June 7 to Monday, August 30, News&Views will be published on its summer schedule, every other week. The deadline for announcement and calendar submissions is Wednesday at noon for the following Monday's issue.
Send comments to: mikaono[at]scripps.edu

Stepping Toward Sustainability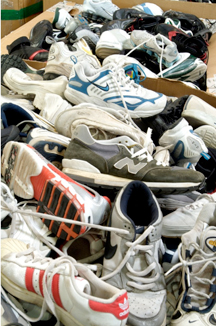 The tally is in. The Green Feat events at Scripps California last month prompted donations of about 250 pairs (280 pounds) of shoes for Soles4Souls, as well as e-waste recycling of 9,099 pounds of monitors and other electronic equipment. At Scripps Florida, 100 live oak trees were given to employees and one was planted on the campus, 500 pounds of home e-waste was collected for recycling, and three contests yielded 16 prize winners. In addition, employees from both campuses increased their knowledge of sustainability by stopping by informational booths and attending a green chemistry lecture.

A Flair for Health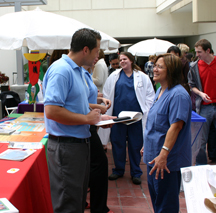 Hundreds of Scripps California employees attended the 2010 Health Fair, which featured health and wellness screenings, fitness and recreation demonstrations, chair massages, giveaways, and food samples.