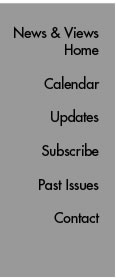 Kenan Charitable Trust Gives New $600,000 Grant to Continue Education Outreach Program at Scripps Florida
By Eric Sauter
The Scripps Research Institute has been awarded a three–year $600,000 grant from the William R. Kenan, Jr. Charitable Trust to continue its widely praised Education Outreach Program at Scripps Florida in Palm Beach County.
"I am extremely pleased that the William R. Kenan, Jr. Charitable Trust has renewed its significant support of our education outreach efforts," said Deborah Leach–Scampavia, who directs the program. "This is a great testament to the value of our program and to the hard work of everyone involved, particularly our main partner, the School District of Palm Beach County. Working together, we've been able to build our education outreach into something that is unique among biomedical research institutes."
To date, the trust has committed more than $1 million to support Scripps Florida's education outreach activities, which include a competitive summer intern program offering high school students and teachers from Palm Beach County a summer research experience in Scripps Florida laboratories. In addition, the program provides science seminars and presentations to district schools.
The new grant was approved after a day–long site visit by the Kenan Trust's board of trustees, Leach–Scampavia said. During that visit, the trustees received an overview of Scripps Florida's current programs and future plans, and spoke with a number of student, teacher, and faculty participants.
Volunteers from Scripps Florida's laboratories, including faculty, postdoctoral fellows, and Ph.D. students serve as mentors to the high school interns. One of the most effective components of the program has been the role of graduate student mentors. The original intent was to inspire in them a lifelong commitment to community service as part of their scientific careers. An unexpected benefit, however, has been to make it easier for the high school students to imagine themselves as budding scientists when they work with mentors who are almost as young.
"Our outreach program offers students and teachers the opportunity to work in some of the world's best scientific laboratories," Leach–Scampavia said. "That experience can mean opportunities beyond the classroom. Several of our summer intern students have been offered part–time positions in our research laboratories."
Expanding Scripps Florida Outreach
Since the Scripps Florida Education Outreach Program began in 2006, nearly 60 teachers and students from 15 Palm Beach County public high schools have taken part in the summer intern program. Through the internships and a number of other education outreach programs, Scripps Florida scientists have reached thousands of students and community members throughout the region.
Scripps Florida education outreach programs include:
The Summer Research Internship Program for Teachers. This program at Scripps Florida provides teachers the opportunity to study current laboratory techniques and procedures with working scientists. In addition to the intensive, hands–on six–week summer program, teachers are expected to use the laboratory experience to help create discovery–based learning for their students, and to serve as a resource for other educators.
The Scripps Florida High School Student Summer Internship Program. This paid internship exposes students over six weeks to a variety of contemporary issues in basic biomedical research, provides hands–on laboratory experience, and helps motivate and prepare students for continuing education in the sciences. The program emphasizes the scientific process, research planning, bench experience, experimental design, and data analysis.
The Scripps Florida Undergraduate Intern Program. This new offering was launched last year and is focused on providing additional opportunities to program alumni who have completed a summer high school internship at Scripps Florida and who wish to continue to develop their scientific careers at the college or university level.
Scripps Florida Summer Teacher Institutes. This new professional development program directs greater efforts to the needs of Palm Beach County high school science teachers by providing basic science and advanced laboratory-based instruction.
For more information, visit: www.scripps.edu/florida/edprograms/
Send comments to: mikaono[at]scripps.edu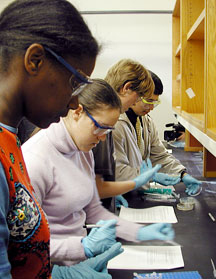 Since the program began in 2006, nearly 60 teachers and students have taken part in the Scripps Florida summer intern program.