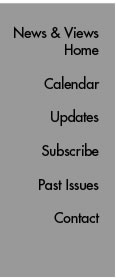 In Brief
Health Fair Heads Up
The annual La Jolla campus Health Fair is coming up on Wednesday, May 19, from 11 AM to 1 PM. The health fair, which will be held on the walkway in front of the Immunology Building, will feature health and wellness screenings, fitness and recreation demonstrations, chair massages, giveaways, and food samples. The Benefits group invites all Scripps Research employees and graduate students to participate in this fun and educational event.
Send comments to: mikaono[at]scripps.edu

Featured at the Funding Fest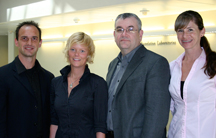 More than 70 participants attended the Spring Grantsmanship and Funding Fest on May 12 featuring speakers (left to right) Lars Bode, assistant professor of pediatrics at UCSD, K99 recipient Nicole Steinmetz of Scripps Research, Miles Fabian, program director at National Institute of General Medical Sciences, and K99 recipient Cortney Henderson of UCSD. Videos and slides from the event are available from Ryan Wheeler of the Office of Career and Postdoctoral Services, rwheeler@scripps.edu or x4-9740.