In Memoriam:
Norman R. Klinman
(1937 - 2010)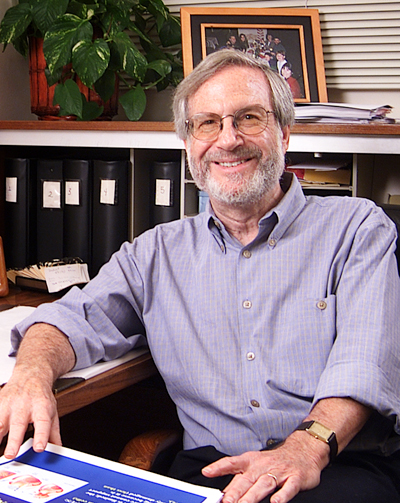 Norman Klinman, professor emeritus in The Scripps Research Institute Department of Immunology and Microbial Science, died May 4, 2010. He was 73.
"We are deeply saddened to announce the passing of our dear friend and colleague, Norman Klinman, after a long illness that he battled courageously," said Argyrios N. Theofilopoulos, chair of the Department of Immunology and Microbial Science. "Our hearfelt sympathies and thoughts are with his wife, Linda, our esteemed colleague, and his children."
"Norm was an intellectual giant not only in immunology, but many areas in biology," said Scripps Research Professor Charles Surh. "I always delighted in hearing his insightful and balanced views. He was also a very compassionate and thoughtful person. He helped me greatly with my career. Norm was a huge role model for me. I'll miss him terribly."
Scripps Research Professor David Nemazee added, "I would like to say that I have known of and admired Norman's work on B cell tolerance since the early 1980s when I was a graduate student. He was considered a major force in tolerance research and carried out some of the first work involving the clonal analysis of the immune response... Personally, I was struck by Norman's sensitivity, kindness, and generosity, which he displayed from the time he helped recruit me in 1998 to the present day. He will be greatly missed by me and my colleagues."
Advancing Understanding of the Human Immune System
Born on March 23, 1937, in Philadelphia, Pennsylvania, Klinman earned a B.A. from Haverford College in 1958 and an M.D. from Jefferson Medical College in 1962. He went on to earn his Ph.D. from the University of Pennsylvania, where he later became professor in the School of Medicine. Klinman's postdoctoral years were spent at the Weizmann Institute of Science in Rehovot, Israel, and at the National Institute for Medical Research in Mill Hill, London. This international training provided him with an important network of scientific colleagues throughout the world.
He moved to California in 1978 to become a professor at The Scripps Research Institute, as well as adjunct professor at the University of California, San Diego. For the next three decades, he provided seminal advances in the understanding the human immune system in health and disease, authoring a total of nearly 200 scientific publications throughout his career.
Klinman's work on immunoregulation, monoclonal antibody responses, humoral immunity, and B cell maturation and repertoire expression was internationally recognized.
"Before hybridoma technology was invented, Norman developed the splenic focus assay, which allowed analysis of the antibody production derived from single clones of B cells," said Nemazee. "This was valuable in his tolerance studies and also in work analyzing the immune response to influenza. He was the first to show that tolerance was an active process involving metabolic activity in antigen specific B cells, and that it could be blocked by certain metabolic inhibitors. Norman also showed that tolerance could occur in a second window of B cell development after antigen specific activation. His novel contributions to our understanding of B cell development in the neonatal period are only now being rediscovered by molecular immunologists."
Klinman's awards included the Parke-Davis Award for Experimental Pathology and a National Institutes of Health Merit Award. In 2006, he was honored with the American Association of Immunologists Excellence in Mentoring Award, which recognized his important role in training dozens of scientists who today continue to explore the most important unanswered questions in the role of the immune system in disease.
During the course of his career, Klinman served on numerous advisory panels for the National Institutes of Health, scientific advisory boards of pharmaceutical and biotechnology companies, and editorial boards of key scientific journals, including Journal of Immunology, Journal of Experimental Medicine, Developmental & Comparative Immunology, Journal of Molecular & Cellular Immunology, International Reviews of Immunology, The Journal of Experimental Zoology, Aging, and the Journal of Gerontology. He also organized a number of prominent national and international meetings.
He was Board President of KIT (Kids Included Together)—an organization that provides learning opportunities supporting recreation, child development, and youth enrichment programs to children with and without disabilities—from 2000 to 2003, and remained active in this organization after his term as president ended.
Klinman is survived by his wife and Scripps Research colleague, Professor Linda A. Sherman, sons Andrew, Douglas, Theodore, and Matthew, and grandsons Alex, Jaime, and Max.
In lieu of flowers, donations may be made to KIT at www.kitonline.org . A memorial gathering is currently being planned to honor Klinman's contributions to Scripps Research and to science.
Send comments to: mikaono[at]scripps.edu