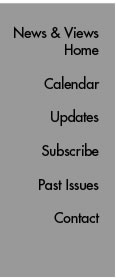 In Brief
New Imaging Instrumentation and Technology Extends Mass Spec Center's Capabilities
The Scripps Center for Mass Spectrometry has recently extended its capabilities in metabolomic tissue imaging and protein identification. The new AB SCIEX 5800 TOF/TOF equipment is funded by grants from the National Institutes of Health and the Department of Energy. According to Gary Siuzdak, who heads the Scripps Center for Mass Spectrometry, the new equipment allows the center "to continue its efforts in one of the most interesting areas being developed in mass spectrometry—mass-based tissue imaging."
The imaging capabilities of the 5800 TOF/TOF add to a set of technologies developed at the Center for Mass Spectrometry called Nanostructure Initiator Mass Spectrometry (NIMS) (reported in Nature 1999, Nature 2007, Anal. Chem. 2009). Tissue slices are placed on a NIMS surface and laser-induced image acquisition is created from the respective mass spectral data. Mass spec data acquisition is customizable to a user's experimental conditions, in which a whole tissue section can be imaged over the course of hours. This new technique has facilitated spatially resolved molecular profiling of analytes such as cholesterol in mouse brain cross-sections. These spatial differences can be used to track areas of altered metabolite concentration such as in specific disease models.
The TOF/TOF instrumentation also allows the center to offer a high-throughput alternative to nano-LC/MS/MS analysis. Pre-digested gel samples can be submitted using the center's online sample submission form. The samples can be submitted individually in separate vials or brought to the lab using an industry standard 96- or 384-sample plate format. The individual peptides can then be spotted onto MALDI target plates. Data-dependent MALDI-MS/MS is acquired in a high-throughput fashion, and peak lists are generated and searched on the center's proteomics search engines for protein identification. Along with existing instrumentation, the new MALDI-TOF/TOF allows the center to offer a full range of protein identification and characterization options. Peptide mass fingerprinting in mass spec-only mode can be used for very highly purified protein samples, MALDI-TOF/TOF with data-dependent MS/MS can be used for samples of medium complexity, and nano-LC-MS/MS is still available for samples of higher complexity.


Career Workshop Series: Spring Grantsmanship and Funding Fest 2010
The Society of Fellows and Office of Career and Postdoctoral Services is hosting events in the Spring Grantsmanship and Funding Fest on the La Jolla campus on Wednesday, May 12. The program features:
Miles Fabian, program director at National Institute of General Medical Sciences, speaking on "Funding Opportunities from the NIH," from 10 to 11 AM.
A panel discussion on "K99/R00" from 1:30 to 3 PM. In addition to Fabian, panelists include moderator Lars Bode, assistant professor of pediatrics at UCSD, and K99 recipients Cortney Henderson of UCSD, and Jeff Lee and Nicole Steinmetz of Scripps Research.
The events will be held in the in the Keck Amphitheater, Beckman Building. No RSVP is necessary and refreshments will be provided.


Scripps Research Volunteers Support Home Start
A cadre of volunteers from Scripps Research helped Home Start put on its Blue Ribbon Gala fundraiser on April 24, celebrating the organization's 38 years of service to San Diego and honoring National Child Abuse Prevention Month.
"I'd say about one third of all the volunteers at the event were from Scripps," said Marcia McRae, administrative manager for MIND and one of the evening's Scripps Research volunteers with Floriska Chizer and spouse Clyde Byas, Mishelle McClanahan-Shinn and spouse Tim Shinn, Joshua Pierce and spouse Joan Pierce, and Deirdra Tomasso (LeBlanc).
Volunteers helped with a variety of tasks at the gala, including checking in the approximately 250 guests, answering questions about the silent auction, acting as runners for the live auction, monitoring tables, selling raffle tickets, handing out prizes, and helping with final clean up.
Send comments to: mikaono[at]scripps.edu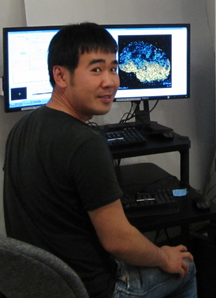 Technician Kevin Cho operates some of the new instrumentation in the Scripps Center for Mass Spectrometry.