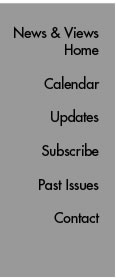 Etcetera
Karsten Sauer Wins Leukemia and Lymphoma Society Award
Associate Professor Karsten Sauer has won a five-year Scholar Award from The Leukemia and Lymphoma Society for highly qualified individuals "who have demonstrated their ability to conduct original research bearing on leukemia, lymphoma and myeloma." The Sauer lab's research program combines broad functional genomics approaches with traditional, hypothesis-driven research to identify and functionally characterize novel genes with important roles in lymphocyte development and function, and in blood cancers. In particular, the lab focuses on the molecular mechanisms through which soluble inositol phosphates and protein kinases mediate lymphocyte receptor signaling. More details can be found on the Sauer lab website (www.scripps.edu/ims/sauer).


SF-SRF Announces ResearchFest Prize Winners
The Scripps Florida Society of Research Fellows (SF-SRF) has announced the winners from the inaugural ResearchFest on April 20.
POSTDOCTORAL FELLOW POSTER PRESENTATION AWARDS
First prize: Jiali Li with Shawn Browning, Sukhvir Mahal, and Anja Oelschlegel, presenting "Selection Of Drug Resistant Variants From Cloned Prion Populations." The prize was a gift card for the Palm Beach Hilton Hotel.
Second prize: Monica A. Istrate with Scott A. Busby, Juliana J. Conkright, Michael J. Conkright, and Patrick R. Griffin, presenting "Role of ARA70 as a LRH-1 Coactivator for Modulation of the Aromatase Promoter II: Implications for Targeting Estrogen-Dependent Breast Cancer." The prize was a VISA gift card sponsored by DiscoveRx.
Third Prize: Xin Qi with Tom Kodadek, presenting "Novel Chemical Screens to Target GPCRs." The prize was an iPod Shuffle.
GRADUATE STUDENT POSTER PRESENTATION AWARDS
Cristin Gavin with Maria D. Rubio and Gavin Rumbaugh, presenting "Actin-Myosin Dynamics Contribute to Fear Memory Consolidation in the Lateral Amygdala." The prize was a VISA gift card sponsored by DiscoveRx.
Cullen Schmid with Laura M. Bohn, presenting "Functional Selectivity at the Serotonin 2A Receptor: Differential Signaling by Serotonin and Dimethylated Tryptamines." The prize was a VISA gift card sponsored by DiscoveRx
ORAL PRESENTATION AWARD
Antonio L. Amelio of the Conkright lab, who spoke on "Emerging Roles for the CRTC Activators in Oncogenesis." The prize was a gift card to Christine Lee's Restaurant.
Send comments to: mikaono[at]scripps.edu