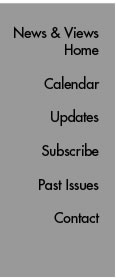 Etcetera
Kevin Morris Wins Outstanding New Investigator Award
Scripps Research Institute Kevin Morris has been selected for a 2010 American Society of Gene and Cell Therapy Outstanding New Investigator Award, based on his "many contributions to the field of gene and cell therapy." Morris is interested in understanding the mechanism of long antisense non-coding RNA mediated transcriptional regulation in human cells in order to develop small antisense non-coding RNA based approaches to regulate HIV-1 and human cancer.
As an award winner, Morris will present a talk on Thursday, May 20, from 4:30 to 6:15 PM during the American Society of Gene and Cell Therapy meeting in Washington, D.C.


Karima Begriche Wins Endocrine Society Award
Scripps Florida Research Associate Karima Begriche has won the Endocrine Society's Eugenia Rosemberg Abstract Award in conjunction with ENDO 2010 (the society's 92nd meeting and expo) in San Diego. She won the travel grant, sponsored by the Eugenia Rosemberg Memorial Fund, for her abstract titled, "Development of a New Model, the LoxTBMC3R Mouse, to Investigate the Regulation of Circadian Rhythms by the Melanocortin-3 Receptor." The society will recognize Begriche during the morning plenary session on Tuesday, June 22.


Four Kellogg School Students Receive NSF Fellowships
Four students at the Scripps Research Kellogg School of Science and Technology in California—Nicholas Simmons, Marisa Hovlid, Will Gutekunst, and Emily Cherney—have been selected for National Science Foundation (NSF) Fellowships. The fellowships provide three years of support for advanced study to outstanding students.


Sandra Schmid to Present NIH Lecture
Sandra Schmid, chair of the Scripps Research Department of Cell Biology, will present a lecture on Wednesday, April 28, at 3 PM, Eastern time (noon, Pacific time), as part of the National Institutes of Health (NIH) Wednesday Afternoon Lecture Series. The lecture will be broadcast live online and an archived version of the lecture will also be available after the event. Fewer than 40 speakers each year are chosen to come to the NIH campus outside Washington, D.C., as part of this prestigious lecture series. To learn more about the lecture series, visit: http://wals.od.nih.gov/2009-2010/april2010.html. To watch this lecture live, visit: http://videocast.nih.gov.

Send comments to: mikaono[at]scripps.edu

Green Expo Reduces Footprints

The Green Expo, featuring numerous educational booths, drew employees from across the La Jolla campus April 15.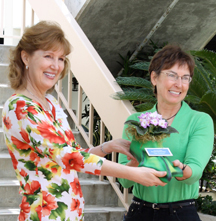 Denise Daggett (left) of Environmental Health & Safety presents the Fabulous Green Foot to Scientific Associate Kathryn Spencer on behalf of the East Campus for its recycling efforts from January through March. The East Campus recycled 9,490 pounds of waste, including paper and cardboard, plastics, glass, aluminum, and pipette tip dispensers, beating out the West Campus with 8,970 pounds.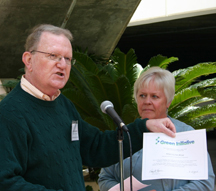 Keith McKeown, vice president for Communications, presents Marcia McRae, administrative manager of MIND, with a certificate of commendation and appreciation for her self-organized effort collecting and recycling 4,135 wine corks to date, resulting in a contribution of $82.70 to the Nature Conservancy.