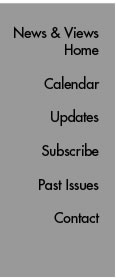 Sanford Consortium Breaks Ground
By Mika Ono
In a ceremony on March 26, the Sanford Consortium for Regenerative Medicine broke ground on its new building on Torrey Pines Scenic Drive, located on a gorgeous site overlooking the Pacific Ocean.
"The Sanford Consortium is the embodiment of community effort, [of] working together in the spirit of collaboration," said Edward Holmes, the consortium's president and CEO. "This is a wonderful day for San Diego."
The new $115-million, 145,000-square-foot facility will bring together stem cell researchers and other scientists from The Scripps Research Institute, Sanford-Burnham Medical Research Institute, the Salk Institute for Biological Studies, and the University of California, San Diego (UCSD).
Among the more than 100 people attending the groundbreaking event–which took place with construction ongoing in the background–were civic leaders and benefactors who helped drive the formation of the consortium. These included South Dakota businessman and philanthropist T. Denny Sanford, local businessman Malin Burnham, Padres owner and philanthropist John Moores, Qualcomm co-founder Irwin Jacobs, California Institute for Regenerative Medicine (CIRM) oversight committee chair Robert Klein, and San Diego Mayor Jerry Sanders. The governor provided a proclamation of his support.
"There will be cures for several diseases here, not in the next few days, not in the next few years, but ultimately this will make a big difference because we will have the best minds working together," said Sanford, who gave $30 million to support the project. "This is the medicine of the future."
The consortium was first formed in March 2006 to expand collaborative work in stem cell research and to facilitate its translation into clinical cures, following voters' approval of Proposition 71 in November 2004, which enabled $3 billion in state bond funds to be issued for stem cell research. Sanford's gift was announced in September 2008, when the consortium was renamed in his honor.
In addition to the contributions of Sanford and other donors, the new building is being made possible by a $43 million facilities grant from CIRM, a bank loan, and a long-term lease of the land from UCSD.
Centrally located among the four member institutions, the new building will enable scientists to more easily share intellectual capital, spurring the search for new cures through stem cell research. Construction is scheduled to be complete in approximately 18 months.
For more information on the Sanford Consortium, see http://www.sanfordconsortium.org/
Send comments to: mikaono[at]scripps.edu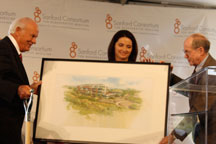 Edward Holmes (right), president and CEO of the Sanford Consortium for Regenerative Medicine, presents a shovel and rendering to philanthropist T. Denny Sanford (left) in recognition of his contributions.

John Reed, president and CEO of the Sanford-Burnham Medical Research Institute, Douglas Bingham, executive vice president and chief operating officer of Scripps Research, William Brody, president of the Salk Institute, and Marye Anne Fox, chancellor of UCSD, (left to right) each hold a piece of the "Sanford Consortium puzzle."