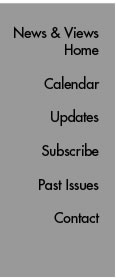 In Brief
Career Workshop Series: "Making the Most of Your Presentation"
Physicist and trainer Jean-Luc Doumont will give a seminar "Making the Most of Your Presentation" on Wednesday, April 7, from 1:30 to 3 PM, as part of the Career Workshop Series. The lecture will propose a systematic way to prepare and deliver presentations. Among other topics, he will cover structure, slides, and delivery, as well as stage fright. The event, sponsored by the Society of Fellows, the Kellogg School of Science and Technology, and the Postdoctoral Services Office, will be held in the Keck Amphitheater, Beckman Center.


Scripps Research Celebrates Sustainability
The Scripps Research Green Team is pleased to host sustainability events on both the La Jolla, California and Jupiter, Florida campuses.
CALIFORNIA
Green Feat 2010: "Reducing Footprints, One Step at a Time" is a two-day event on the La Jolla campus promoting environmentally sustainable efforts and practices within the Scripps Research community and commemorating the 41st annual Earth Day. It includes:
Green Expo, on Thursday, April 15. The Green Expo, which will be held on the Immunology Building breezeway from 11 AM to 1 PM, will feature educational booths from Scripps Research groups—including Environmental Services, the Society of Fellows, and the Scripps Research Green Team, as well as employee volunteer group ScrippsAssists— showcasing projects that work towards sustainable campus operations and how you can participate. In addition, some two dozen environmentally friendly agencies, organizations and vendors—from Birch Aquarium to the Water Conservation Garden, from Think Blue San Diego to California Center for Sustainable Energy—will provide information and advice.
Free Home E-Waste Collection and Drop Off, on Wednesday, April 21. Safely and sustainably disposing of personal e-waste often requires users to pay a fee—but not at this year's Green Feat e-waste event, which will be held at the CimBio (Carr B) building, 3215 Merryfield Row, San Diego, CA 92121, from 8 AM to 1 PM. Scripps Research employees can drop off personal home office electronic waste, including computer devices (terminals, monitors, keyboards, wires, etc.), laptops (batteries included), scanners, printers, fax machines, radios, and stereo equipment, VCRs and DVD players, TVs, and cell phones (batteries included). Recycling your e-waste will divert hazardous materials from landfills, conserve natural resources, and reduce pollution.
For more information, including a list of organizations represented at the Green Expo event, see the Green Feat 2010 website.
FLORIDA
Earth Day celebrations on the Jupiter campus will focus on achievements in recycling, ongoing sustainability efforts, and future initiatives for energy reduction. Activities and prizes on Earth Day, Thursday, April 22, include:
Energy Savings or Green Chemistry Suggestions Contest. Five pairs of tickets to the new Disney nature movie Oceans will be awarded for the five best energy savings or green-chemistry suggestions.
Breath of Fresh Air. One hundred live oak trees will be made available to employees from a local Florida tree farm.
Tree Planting. One tree will be planted with an Earth Day plaque, as a symbol of Scripps Florida's sustainable contribution to the future of this planet.
Carbon Footprint Contest: The online "Black Feet to Green Feat" contest raises awareness and provides a quick estimate of overall personal energy use and abuse. The grand prize will be a $75 Greenwise gift certificate (local organic market); runner-up, a $25 certificate; most improved from 2009, $25 certificate; and last place, an Energy-Fuelish award.
Free Home E-Waste Drop Off: Employees will be able to dispose of personal e-waste one time at this year's Green Feat. Home e-waste includes: computers, monitors, keyboards, wires, batteries, fax machines, printers, radios, stereos, VCRs, DVDs, TVs, and cell phones. Recycling e-waste diverts hazardous materials from landfills, conserves natural resources, and reduces pollution. Drop-off will be the EH&S golf cart located in front of Building B.
Employees should stay tuned for more details.


Send comments to: mikaono[at]scripps.edu

The Contests Continue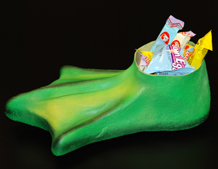 Who will win The Fabulous Green Foot Award for recycling the most trash and other materials on the California campus? East Campus or West? The winner will be announced and the Fabulous Foot presented during the Institute's Green Feat Expo on April 15. So, California Easterners and Westerners, time is running short—grab your garbage and recycle! If you're in Florida, take the online "Black Feet to Green Feat" quiz or enter the Energy Savings/Green Chemistry Suggestions Contest to win prizes on Earth Day April 22.