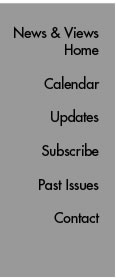 In Brief
Library Tip: Journal Article One-Stop Shopping
Can't find the full text of an article? Does the publisher ask for a login or money to get the article? Let the Kresge Library get a copy of the article for you! While searching for articles in any of the library's databases, or using the specialized version of PubMed available at http://www.ncbi.nlm.nih.gov/sites/pubmed?dr=abstract&otool=scrippslib&holding=f1000, look for the "SFX@TSRI" button that appears with the abstract for every article. This button gives you "one-stop-shopping" access to journal articles. Clicking on the SFX button will either provide a link to the full-text of the article, or allow you to request a copy via ILLiad, our interlibrary loan service. Just log in to ILLiad and SFX fills out the request form automatically! Try it out on your next search or ask a Library staff member for a demonstration. For more information, contact the Kresge Library Help Desk, x4-8705 or helplib@scripps.edu.


Panel Discussion: "Careers in Industry"
The Society of Fellows (SOF) and the Career and Postdoctoral Services Office is sponsoring a panel discussion, "Careers in Industry," on Thursday, March 25, from 1:30 to 3 PM on the La Jolla, California campus. Panelists will include: Aparna Aiyer, senior scientist at Gen-Probe Inc.; Chris Bi, external research solutions chemistry lead at Pfizer; Christian Carson, a scientist at BD Biosciences; and Christine Federovitch, associate director and West Coast business development and clinical research Associate at CATO Research. Panelists will share practical advice related to their own career transitions, including descriptions of their current jobs, opportunities in the field, and where to find more information and training. The event will be held in the Keck Amphitheater of the Beckman Building. No RSVP required. Refreshments will be provided.


Lunch & Learn: "Coping with Grief and Loss"
Clinical psychologist Daphne Lurie of Scripps Research Counseling and Psychological Services will speak on "Coping with Grief and Loss" on Thursday, March 25, from noon to 1 PM as part of the ongoing Lunch & Learn seminar series for employees. Grief is a normal and natural reaction to loss. In this seminar, Lurie will explore the universal and unique aspects of this experience, as well as positive ways to cope with the losses in our lives. During this presentation, you will gain an understanding of the role grief plays in our lives, positive coping strategies in the face of loss, and strategies for helping others who are dealing with grief and loss. The seminar will be held in the Keck Amphitheater, Beckman Building, on the La Jolla campus.


New Room Reservation System Training
Information Technology (IT) Services and the Calendar Office are in the final stages of preparing to launch the new online room reservation system at the beginning of April. For the launch of the new program, all existing reservations will need to be transferred to the new system. If you are someone who makes room reservations, you need to transfer your existing reservations to the new system. This will ensure that the correct dates and information are transferred and that you will be able to update your events in the future.
To assist you in that process, two levels of training are being offered: an overview of the new system and hands-on training and assistance to convert existing reservations to the new format.
Overview classes, which will be held in the HR Training Room, that are still available include:
March 23, 2 to 3:30 PM
March 25, 10 to 11:30 AM
To sign up, go to http://hris.scripps.edu/training/class/CAL0110CAL
For the hands-on training and for assistance transferring your existing reservations to the new system, several "open houses" will be held in the IT training room, with IT and Calendar staff on hand to help:
March 23, 11:30 AM to 5 PM
March 25, 9 AM to 4 PM
There is no need to sign up for an open house. If possible, bring a copy of your event forms for the various reservations you have made. Additional open houses will be added as needed.
Send comments to: mikaono[at]scripps.edu