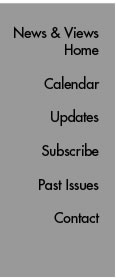 In Brief
"Team TSRI" Takes First Place in 8K Race
"Team TSRI" won first place in the Union-Tribune Race for Literacy 8K, Corporate Division, on March 7, overcoming rainy conditions with an outstanding performance. Team members and their times were: Justin Cisar (28:55, the team's fastest male); Beth Cisar (36:27, the team's fastest female); Luc Teyton (29:23, first place in his age group), Jonathan Long (29:52), Daniel Bachovchin (31:34), Sanjeev Ranade (36:19), and Fai Siu (37:10).


Panel Discussion: "Careers In Industry"
The Society of Fellows (SOF) and the Career and Postdoctoral Services Office is sponsoring a panel discussion, "Careers in Industry," on Thursday, March 25, from 1:30 to 3 PM on the La Jolla, California campus. Panelists will include: Aparna Aiyer, senior scientist at Gen-Probe Inc.; Chris Bi, external research solutions chemistry lead at Pfizer; Christian Carson, a scientist at BD Biosciences; David Nelson, president and CEO of Epic Sciences, Inc.; and Christine Federovitch, associate director and West Coast business development and clinical research Associate at CATO Research. Panelists will share practical advice related to their own career transitions, including descriptions of their current jobs, opportunities in the field, and where to find more information and training. The event will be held in the Keck Amphitheater of the Beckman Building. No RSVP required. Refreshments will be provided.


NWiS, Graduate Office, and SOF to Host Get Together For New Faculty and Students
The Network for Women in Science (NWiS), the Graduate Office, and the Society of Fellows (SOF) are hosting a happy hour for new faculty and students to get to know each other on Thursday, March 18 at 5 PM. Although the event is aimed at helping to pair students still seeking rotation opportunities with new Ph.D. advisors looking for new lab members, all individuals—including established principal investigators, more senior students, and postdocs—interested in meeting the people behind the institute's newest research directions are welcome to attend. The March 18 event will be held in the Faculty Club Tennis Court Room. If you are a principal investigator planning to attend and have not already done so, please RSVP to heideker@scripps.edu. Appetizers, wine, and cheese will be served.


Upcoming Onsite Clinics
On Monday, March 15, Wednesday, March 17, and Friday, March 19, personnel from Sharp Rees-Stealy Medical Group will be onsite to conduct TB screenings, hepatitis B immunizations, serum draws, and tetanus immunizations. The clinics will be conducted in the 3366 Building, in Room 325, on the third floor, from 11 AM to 2 PM on Monday, Wednesday, and Friday. No appointments are necessary. TB screening requires a 48 to 72 hour follow-up. Individuals receiving the TB screen on Monday will need to return on Wednesday, and individuals screened on Wednesday, will need to return on Friday. Initiation of the TB screening process will not be available on Friday, but hepatitis B immunization, serum draws, and Tetanus immunizations will be. To learn more about these programs, see the Environmental Health & Safety Occupational Medicine web page. [link]
Send comments to: mikaono[at]scripps.edu