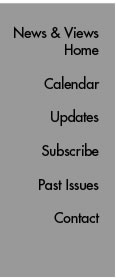 Noted Learning and Memory Scientist Joins Neuroscience Department
By Eric Sauter
The Scripps Research Institute has named Gavin Rumbaugh as an assistant professor in the Department of Neuroscience at the institute's Florida campus. Rumbaugh, who was an assistant professor at the University of Alabama, Birmingham, is known for his work on the brain mechanisms of information storage, learning, and memory, with a particular emphasis on the plasticity of neural circuits—the ability of neurons to adapt in the face of both developmental and environmental change.
"We're pleased to have Gavin join our department," said Ron Davis, chair of the Scripps Florida Department of Neuroscience. "He's a tremendously talented young scientist who is working in a field that holds the promise of new discoveries that could have an impact on the lives of millions of patients suffering from increasingly common neurodegenerative diseases like Alzheimer's. He's one of the people who can make a difference and we want to welcome him warmly to Scripps Florida."
Rumbaugh, 35, is married to Courtney Miller, who recently joined Scripps Florida as an assistant professor in the Department of Metabolism and Aging. The couple lives in Jupiter.
"Coming to Scripps Florida is a great opportunity for me," Rumbaugh said. "What has struck me the most is the incredible sense of collaboration among the scientists here. No matter what their area of research, if you need something—a piece of equipment or just a question answered—they're ready to help. Plus, the campus has advanced technological resources that are so critical to our research these days. Scripps Florida is a one-of-a-kind research facility and I'm extremely pleased to be here."
Rumbaugh received his bachelor's degree from Westminster College in Pennsylvania in 1996 and his Ph.D. from the Georgetown University School of Medicine in Washington, DC. He was a postdoctoral fellow in the Department of Neuroscience and the Howard Hughes Medical Institute at the Johns Hopkins University School of Medicine from 2000 to 2006 in the laboratory of Director of Neuroscience Richard L. Huganir, Ph.D.
"The goal of my lab is to discover how molecules store information, and how this process in the brain leads to what is commonly known as a 'memory,'" Rumbaugh said. "By understanding these processes in detail, we hope to develop new drugs that can restore memory function in persons with neurodegenerative disorders like Alzheimer's disease and dementia. Our work is also relevant to the development of intellectual abilities during childhood and adolescence, and may lead to treatments for conditions such as mental retardation, intellectual disabilities, autism, and schizophrenia."
Rumbaugh is the first new faculty member to join the Department of Neuroscience. The department was created less than a year ago with the appointment of Davis as chair.
Rumbaugh's current research is examining the synaptic signaling pathways that influence the structure and function of neuronal circuits. In a study published in the December 9, 2009, edition of the journal Neuropsychopharmacology, Rumbaugh and his colleges showed that by inhibiting histone deacetylase, a family of signaling enzymes that play a role in cell growth, cell death, and cancers, the scientists could maintain stable memories in transgenic mice for more than two weeks, suggesting that inhibition of this class of enzymes might prove to be a promising avenue for treating the cognitive deficits associated with early-stage Alzheimer's disease. Rumbaugh received a Young Investigator Award in 2009 from National Alliance for Research on Schizophrenia and Depression (NARSAD), the world's leading charity dedicated to mental health research. He was also appointed as an investigator to the Evelyn F. & William L. McKnight Brain Institute at the University of Alabama in 2007.
Send comments to: mikaono[at]scripps.edu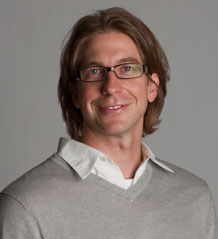 "Coming to Scripps Florida is a great opportunity for me," says Assistant Professor Gavin Rumbaugh. (Photo by James McEntee.)