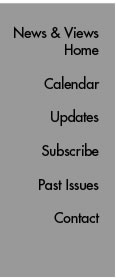 Scripps Research Appoints Pete Herold as Vice President of Facilities Services
The Scripps Research Institute has appointed Pete Herold as its new vice president of Facilities Services. Herold has been a member of the Scripps Research team as director of Facilities Services for four years.
"Working at Scripps Research has been an engaging and exciting opportunity, and I'm looking forward to continuing my service," Herold said. "We have several important projects to implement and improvements to make and I'm proud to be helping Scripps Research continue in its legacy of accomplishment."
Over the past four years as director of the Scripps Research Facilities, Design, and Construction group, Herold, 51, has overseen construction of new buildings as well as renovations, working with Scripps Research staff and other architects, engineers, and building contractors. Herold also co-managed construction of the Jupiter, Florida campus with Ben Morris, who was the institute's vice president for facilities services until he retired this month. Construction was completed on the 350,000-square foot Florida facility—on time and under budget—a little more than one year ago. The Florida facility was recently awarded a national "Best of the Best Award" from McGraw Hill's Engineering News-Record.
"Pete's work at the Institute, both in California and Florida, has been exemplary," said Scripps Research Executive Vice President and Chief Operating Officer Douglas A. Bingham. "When you need to get it done, and done right, Pete's the man to go to."
Herold has also spearheaded many efforts toward making the Scripps Research campus in La Jolla more environmentally friendly. Under his leadership, Scripps California has engaged in several programs designed to make the campus more sustainable, including enrolling the institute in various programs with the City of San Diego and SDG&E.
Herold has a B.S. degree in mechanical engineering from Cal Poly, San Luis Obispo, and has worked in the construction industry in heating, ventilation, and air conditioning design. He has also worked at TKG Consulting Engineers, which is now Xnth. Before coming to Scripps Research, Herold was Director of Facilities at The Burnham Institute for 11 years.
He lives in Alpine with his wife, Geri, and children, Marc and Melissa.
Send comments to: mikaono[at]scripps.edu


"I'm proud to be helping Scripps Research continue in its legacy of accomplishment," says Pete Herold, vice president of Facilities Services. (Photo by Kevin Fung.)