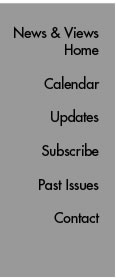 Scripps Florida and Gardens Mall "CELLebrate" Science
What do glowing zebrafish, flaming gummy bears, and a Wii-controlled robot handing out candy all have in common? They're a few of the displays and activity booths that were featured at the recent "CELLebrate" Science with Scripps Florida event, which was sponsored and hosted by The Gardens Mall in Palm Beach Gardens.
The interactive community festivity—attended by an estimated 4,000 people—marked the one-year anniversary of the formal dedication of Scripps Florida's permanent research facility in Jupiter.
"We're grateful to The Gardens Mall for allowing us this opportunity to give everyone a chance to see a little bit of what we do and for us to meet some of the people who have supported us so generously," said Harry Orf, Scripps Florida's vice president of scientific operations. "We're proud to be a part of the Palm Beach County community."
Featuring six hands-on activity stations, a scavenger hunt-style discovery walk, fun giveaways, and the opportunity to interact with Scripps Florida scientists, "CELLebrate" offered visitors a glimpse into science and some of the biomedical research ongoing at Scripps Research. Staffed by Scripps Florida scientists and graduate students, educational activity booths included:
"Express Yourself," in which scientists demonstrated the genetics of taste to see who could taste bitter, sweet, and savory.
"Go F.I.S.H.," in which scientists showed how they could "see the invisible," highlighting parts of chromosomes by chemically inserting molecules that glow and making bright fluorescent red, green, and orange zebrafish.
"A-MAZE-ing Proteins," a maze that showed how proteins, which build, regulate, and maintain your body, have interesting twisting shapes.
"ScrippsBot," which answered the question: What happens when you combine a Wii with a robot in a research lab?
"Synthesize," in which Scripps Florida chemists changed aspirin into wintergreen, demonstrated eye-popping color-change reactions, and did truly "cool" things with liquid nitrogen.
"Energize," where participants could try their hand at working in an actual laboratory glove box, then see (and hear) what happens when hydrogen and oxygen meet a catalyst.
"CELLebrate Science was a huge success," said Deborah Leach Scampavia, Scripps Florida education and outreach administrator. "It was thrilling to see the wonder on kids' faces as they had one of their first encounters with science."
Send comments to: mikaono[at]scripps.edu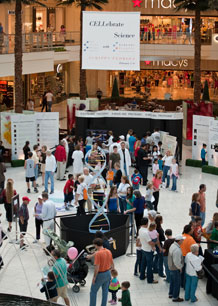 The science festival marked the one-year anniversary of the dedication of Scripps Florida. (Photo by James McEntee.)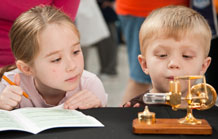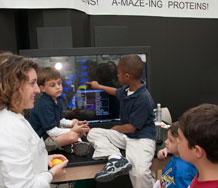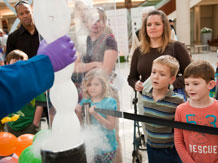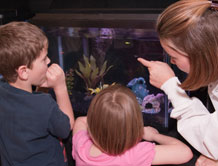 A variety of educational booths captured visitors' attention. (Photos by James McEntee.)