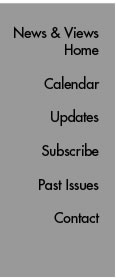 In Brief
Ann Feeney to Speak as Part of the Faculty Lecture Series
Ann Feeney, professor in the Department of Immunology, will speak on "Genetic and epigenetic regulation of antigen receptor gene rearrangement" as part of the California campus's Faculty Lecture Series on Wednesday, February 10. The lecture will take place in the Timken Amphitheater (Green Hospital), 10666 North Torrey Pines Road, La Jolla, at 5 PM, with a reception to follow in the Arnold and Mabel Beckman building, first floor. For more information, see Feeney's Faculty Lecture Series web page.


Postdoc/Grad Student Seminar: "How to Craft a Winning Resume"
Ryan Wheeler, manager of the Postdoctoral Services Office, will present "How to Craft a Winning Resume" on Wednesday, February 10, from 3:30 to 4:30 PM. Topics will include the difference between a CV and a resume, tips to highlight your accomplishments, examples of effective resumes, and cover letter writing. This course, which is offered several times each year, is particularly geared for postdocs and graduate students who are interested in industry and other non-academic positions. Registration for the event, which will be held in the Human Resources Training Room, is required. Sign up at http://hris.scripps.edu/training/course/11 .


Career Workshop Series: "Designing Your Life"
Coach Samantha Sutton of The Handel Group will speak on "Designing Your Life" on Thursday, March 11 as part of the Career Workshop Series. The workshop will focus on formulating inspired dreams and honestly evaluating what your life currently looks like. It will help you cut through the limiting beliefs and excuses to design a plan-of-attack for moving toward your dreams. Sponsored by the Kellogg School of Science and Technology, The Network for Women in Science, the Society of Fellows, and the Office of Career and Postdoctoral Services, the event will be held in the Keck Amphitheater. A networking reception will follow. Registration is required at: http://hris.scripps.edu/training/course/11 .


Help Support Cancer Research during Daffodil Days
The ScrippsAssists employee volunteer club invites you to support the American Cancer Society's Daffodil Days 2010.
Daffodil Days—which presents a unique opportunity to enjoy beautiful, fresh flowers while making an impact on the lives of local cancer patients and their families—is one of the American Cancer Society's largest fundraisers of the year. Money goes toward cancer research and education in California, early detection efforts, advocacy, and patient services.
"We have seven researchers at Scripps Research currently receiving American Cancer Society funds," notes Leslie Madden, a senior administrative assistant in the Molecular Biology Department who organizes the annual campaign.
Sales have started and will run until Tuesday, February 23, with the expected delivery date of the flowers of Wednesday, March 24. New this year is a Bear of Hope donation ($25 minimum) that will enable stuffed bears to be distributed to local cancer patients. Other items include:
Bouquet of 10 daffodils (no vase), $10
"Sunshine," 10 daffodils with a teal-colored vase, $20
"Vision," 20 daffodils in a clear glass vase, $35
Bear and a Bunch, 10 daffodils and a 10-inch Boyd's teddy bear named "Birthday's R. Hope," $25
Gift of Hope donation, $25 or other amount. American Cancer Society representatives use this donation to anonymously deliver bouquets of daffodils to cancer patients in hospitals, medical centers, and doctor's offices. (Please note: bouquets are not delivered to specific patients, nor are donor's names attached to the gifts.) Gift of Hope donations also fund cancer research, education, local patient services and advocacy efforts.
Please make checks payable to the "American Cancer Society."
The following volunteers are available to take your orders:
Jenny Miller, 3301 Torrey Pines Court, reception, x4-8379, jennym@scripps.edu, or TPC-12
Jan Tuomainen, Human Resources, x4-8825, jantt@scripps.edu, or TPC-7
Leslie Madden, Molecular Biology, 101, x 4-2881, lmadden@scripps.edu, or MB-3
Rebecca Nedellec, Immunology, 316, x4-9933, nedellec@scripps.edu, or IMM-7
Joan Lord, Stein, 108, x4-2155, jlord@scripps.edu, or SBR-10
Kathy Spencer, ICND, 208, x4-8437, kspencer@scripps.edu, or ICND-210
Lisa Cairncross, Carr B/Cim Bio, 256C, x4-7052, lisacair@scripps.edu, or CB-256D
Pam Cryer, SP 3030, 1150, x4-2807, peejae@scripps.edu, SP30-1150
Alicia Uncangco, MEM, 116, x4-7907, alicia1@scripps.edu, or MEM-116
For details and pictures of the products, see http://www.scripps.edu/~lmadden/daffodil/Daffodil_Days_2010.pdf. For additional information, contact Madden, x4-2881 or lmadden@scripps.edu.


SOS Toastmasters Hosts Open House and Speech-a-Thon
The Scripps Outstanding Speakers (SOS) group of Toastmasters is hosting an open house and speech-a-thon on Friday, February 26, from 6:30 to 9 PM. The group invites all SOS members to participate in the event and to sign up as Speakers, Evaluators, or Table Topic Masters. The group also warmly welcomes non-members as guests. The event, which includes pizza, will be held in the CIMBio large conference room. RSVP to Kathy Sterling, ksterling@scripps.edu or (858) 337-5410. For more information on the event, see http://sostoastmasters.wordpress.com/


News&Views Salutes President's Day
News&Views will not be published on Monday, February 15 due to President's Day, a Scripps Research holiday. Weekly publication will resume with the Monday, February 22 issue.
Send comments to: mikaono[at]scripps.edu

Ben Morris Retires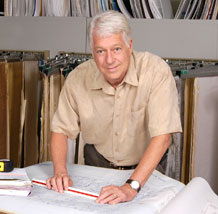 Ben Morris, vice president of facilities services, retires this month after more than 31 years with the institute. "It feels good to shift gears," said Morris, "even though I have enjoyed working with many people here." (Photo courtesy of BioMedical Graphics.)