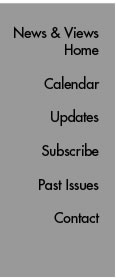 In Brief
Scripps Florida and Israel Cancer Association Collaborate for a Cure
The first Israel Cancer Association (ICA)—Scripps Florida symposium, "Collaboration for a Cure," on January 20 drew more than 120 physicians, scientists, intellectual property attorneys, and other individuals to the Scripps Florida campus.
"Having the scientists together was a great first step toward generating unique and productive research collaborations and coming up with new targets for cancer prevention and therapy," said John L. Cleveland, professor and chair of the Department of Cancer Biology. "Scripps Florida research can be shared with other leading institutions and this is a win-win endeavor with the scientists affiliated with the Israel Cancer Association."
Initiated and coordinated by the Israel Cancer Association USA based in West Palm Beach, FL, the symposium was co-sponsored by UBS Palm Beach Wealth Group and Daszkal Bolton LLP. To continue to foster the relationship between the two institutions, ICA will host Scripps Florida scientists in Israel in 2012.


Barbas Lab Paper Highlighted
A recent study from the Scripps Research Barbas lab was highlighted in both the "Research Highlights" section of Nature Chemistry and the "News" section of the Royal Society of Chemistry's Chemistry World. The Journal of the American Chemical Society paper, "Tyrosine Bioconjugation through Aqueous Ene-Type Reactions: A Click-Like Reaction for Tyrosine" by Hitoshi Ban, Julia Gavrilyuk, and Carlos F. Barbas, III, describes a way to use "click chemistry" to attach small molecules to proteins and peptides under mild, aqueous reaction conditions. The new method could facilitate drug development and other biomedical research.


Ann Feeney to Speak as Part of the Faculty Lecture Series
Ann Feeney, professor in the Department of Immunology, will speak on "Genetic and epigenetic regulation of antigen receptor gene rearrangement" as part of the California campus's Faculty Lecture Series on Wednesday, February 10. The lecture will take place in the Timken Amphitheater (Green Hospital), 10666 North Torrey Pines Road, La Jolla, at 5 PM, with a reception to follow in the Arnold and Mabel Beckman building, first floor. For more information, see Feeney's Faculty Lecture Series web page.


NWiS Coffee Hour: "Networking Basics"
Join the Network for Women in Science (NWiS) for its February coffee hour, co-sponsored by the Office of Postdoctoral and Career Services, for a hands-on crash course in networking to be held Monday, February 1, at 3 PM. The current biotech climate remains volatile with Pfizer and Merck recently announcing the elimination of hundreds of jobs as part of corporate realignment. You may wonder, "How do PhD's find an industry job?" It can be a matter of who you know. The discussion on "Networking Basics" led Huong Huynh, president of the San Diego Association of Women in Science and program coordinator of the Burnham Institute Office of Postdoctoral Training, can help you gain the confidence and skills to make valuable connections. The event will be held in the Human Resources training room, 3377 North Torrey Pines Court, second floor, La Jolla, CA campus. Coffee and snacks will be provided. This event, like all NWiS events, is open to all of Scripps Research and the group welcomes male colleagues. Read more about NWiS and this event on Facebook: http://www.facebook.com/event.php?eid=143364170746.
Send comments to: mikaono[at]scripps.edu