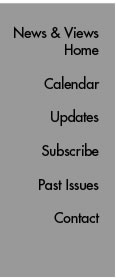 In Brief
Lunch & Learn: "2010: Back in Charge!"
Psychotherapist Adrianne Ahern, who is renowned for her work in developing human potential, will speak on "2010: Back in Charge!" on Wednesday, January 27, from noon to 1 PM. The seminar will help participants learn how to effectively use their brain to meet and conquer life's challenges, including: increasing focus, creativity, and eagerness; meeting life's challenges with confidence and calm; positively and effectively responding to change; reducing negative impacts of a stressful life; and experiencing more energy and joy on a daily basis. The workshop, sponsored by the Scripps Research Counseling and Psychological Services Department, will be held in the Keck Amphitheater, Beckman Building, La Jolla campus.


EH&S Seminar: Ergonomic Pipetting
The Scripps California Environmental Health & Safety Department and Vista Labs are sponsoring two free, one-hour sessions on "Ergonomic Pipetting" on Wednesday, January 27 on the La Jolla campus. The first session will be held from 10:30 to 11:30 AM in the Immunology East Conference Room. The second session will be held from 1:30 to 2:30 PM in the ICND Auditorium. Snacks will be provided. RSVP by Monday, January 25 to devalld@scripps.edu.


NWiS Coffee Hour: "Networking Basics"
Join the Network for Women in Science (NwiS) for its February coffee hour, co-sponsored by the Office of Postdoctoral and Career Services, for a hands-on crash course in networking to be held Monday, February 1, at 3 PM. The current biotech climate remains volatile with Pfizer and Merck recently announcing the elimination of hundreds of jobs as part of corporate realignment. You may wonder, "How do PhD's find an industry job?" It can be a matter of who you know. The discussion on "Networking Basics" led by Huong Huynh, president of the San Diego Association of Women in Science and program coordinator of the Burnham Institute Office of Postdoctoral Training, can help you gain the confidence and skills to make valuable connections. The event will be held in the Human Resources training room, 3377 North Torrey Pines Court, second floor, La Jolla, CA campus. Coffee and snacks will be provided. This event, like all NWiS events, is open to all of Scripps Research and the group welcomes male colleagues. Read more about NWiS and this event on Facebook: http://www.facebook.com/event.php?eid=143364170746.
Send comments to: mikaono[at]scripps.edu