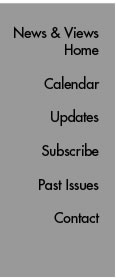 In Brief
Paul Schimmel to Speak in Faculty Lecture Series
Professor Paul Schimmel will speak on "Natural Switches of Proteins Used for Translation to Novel Functions that Have Medical Implications" as part of the California campus's Faculty Lecture Series on Wednesday, January 13. The lecture will take place in the Timken Amphitheater (Green Hospital), 10666 North Torrey Pines Road, La Jolla, at 5 PM, with a reception to follow in the Arnold and Mabel Beckman building, first floor. For more information, see Schimmel's Faculty Lecture Series web page.


Emergency Number Reminders
CALIFORNIA
For California employees, the following resources are available during an emergency:
The California Campus Status Hotline, at (858) 784-7000. California employees can call the hotline in any regional emergency for a recorded message on the work status of the campus. The institute's website and email system will continue to be another source of information.
In case of an emergency on the California campus, dial "77." When you dial "77" the phone automatically is connected with the security operator located at the Beckman Center front entrance. The security operator will answer, take some preliminary information, and then tell you to hold while he/she transfers you to the 911 operator. It is important that you not hang up during this transfer; the line will be silent until the 911 operator answers (this may take more than a minute). During your call, other members of the Scripps Research Emergency Response Team will be alerted, so they can also provide assistance.
FLORIDA
Florida employees should look to the following resources during an emergency:
The Florida Campus Status Hotline, at (561) 228-2999. Florida employees can call the hotline in any regional emergency, such as hurricanes, for a recorded message on the work status of the campus.
In case of a Florida campus emergency, call "911." Dialing 911 from a Scripps phone automatically connects you to Scripps Florida Security desk in Building B reception. Security will obtain the critical information from you. They will immediately contact the Scripps Emergency Response Team and the Palm Beach County emergency center who will dispatch the appropriate team from Jupiter Police, Palm Beach County Fire Rescue, and/or EMS to the Florida campus.
For more information about emergency planning on the Scripps California campus, contact Carolyn Keierleber at (858) 784-8240; for the Florida campus, contact Larry Wylie at (561) 228-2041.
Send comments to: mikaono[at]scripps.edu

Tom Barmeyer Retires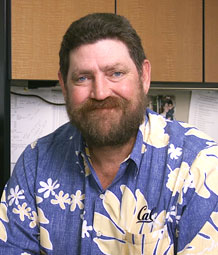 After 26 years of service to the institute, Tom Barmeyer, manager of Animal Resources, retired January 8. He plans to spend his time in the foothills of the Sierras, where he will live and work on his property there and relax with his wife. (Photo courtesy of BioMedical Graphics.)