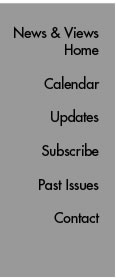 Letter from the President
Happy holidays! It is my pleasure as president of The Scripps Research Institute to wish you and your family the very best of the season.
During 2009, The Scripps Research Institute made significant advances—from the official opening of our new, permanent home on the Florida campus to achieving significant scientific breakthroughs.
Celebrating New Beginnings
In February, we held opening ceremonies for our new Scripps Florida permanent research facilities. Florida Governor Charlie Crist and Palm Beach County commissioners joined us at the ribbon-cutting for the 350,000-square-foot, state-of-the-art biomedical research facility in Jupiter. The opening of the Florida campus, which is dedicated to expanding biomedical research, educating and training future scientists and, ultimately, improving human health, marked a significant milestone in the history of the institute.
On the West Coast, an international scientific symposium in September celebrated a new research center, the IAVI Neutralizing Antibody Center, directed by Professor Dennis Burton. The center, a partnership between Scripps Research and the International AIDS Vaccine Initiative (IAVI), focuses on a key step in designing an AIDS vaccine—eliciting antibodies that are effective in destroying a wide variety of strains of HIV.
Scientific Breakthroughs
Scripps Research scientists on both coasts continued to make remarkable advances in 2009. To mention only a few of these:
Professor Ian Wilson, who is a member of the Skaggs Institute for Chemical Biology at Scripps Research, and colleagues reported the characterization of an immune system molecule that targets what appears to be an "Achilles heel" of a wide range of influenza viruses—including the viruses responsible for past global pandemics, those causing current common infections, and strains of bird flu believed to pose future world threats. The discovery of the molecule, an antibody known as CR6261, opens the door to a flu vaccine that would give humans lifelong protection against a majority of influenza viruses. The antibody also has the potential to treat those who are unvaccinated and become infected with the flu.


Associate Professor Sheng Ding and colleagues achieved a breakthrough in converting adult cells all the way back to the most primitive embryonic-like cells without using the dangerous genetic manipulations associated with previous methods. The new technique solves one of the most challenging safety hurdles associated with personalized stem cell-based medicine because for the first time it enables scientists to make stem cells in the laboratory from adult cells without genetically altering them.


Assistant Professor Kristin Baldwin, Mouse Genetics Core director Sergey Kupriyanov, and colleagues described the creation of mice from what are known as induced pluripotent (iPS) cells—stem cells created by reprogramming normal cells taken non-destructively from living animals. While for several years no research team had been able to generate live adult animals from iPS cell lines, the study was part of a trio of new papers showing the feat is possible.


Professor Carlos Barbas, III, who is Janet and Keith Kellogg II Chair in Molecular Biology and member of the Skaggs Institute, and colleagues found a way to use specially programmed chemicals to elicit an immediate immune response in laboratory animals against two types of cancer. The experiments appear to overcome a major drawback of vaccinations—the lag time of days, or even weeks, that it normally takes for immunity to build against a pathogen. This new method of vaccination could potentially be used to provide instantaneous protection against diseases caused by viruses and bacteria, cancers, and even virulent toxins.


Professor Dennis Burton and colleagues discovered two powerful new antibodies to HIV that reveal what may be an Achilles' heel on the virus. Researchers are now trying to exploit the newfound vulnerability on the virus in the design of an AIDS vaccine.


Professor Elizabeth Getzoff, a member of the Skaggs Institute, and colleagues solved the structure of a critical molecule that helps plants survive during droughts. Understanding the inner workings of this molecule may help scientists design new ways to protect crops against prolonged dry periods, potentially improving crop yields worldwide, aiding biofuels production on marginal lands and mitigating drought's human and economic costs.


Professor Martin Friedlander and colleagues increased our understanding of the causes of and potential treatments for two blinding conditions known as macular telangiectasia (MacTel) and retinal angiomatous proliferation (RAP), types of macular degeneration. The research bolsters the idea that humans suffering from these and other eye conditions may be able to help preserve function by adding antioxidants to their diet, and explains why this would work. The team also devised a new cell-based gene therapy technique that could eventually offer another option for arresting vision loss from these diseases.


Professor Gerald Joyce, who is dean of the faculty and member of the Skaggs Institute, and colleagues developed the first examples of RNA that replicates itself indefinitely without any help from biology. The findings could inform biochemical questions about how life began.


Professor Claes Wahlestedt and colleagues uncovered a potential new target for schizophrenia treatment, for the first time linking a specific microRNA to behavioral problems frequently associated with psychiatric disorders such as schizophrenia.


Professor John Tainer, who is a member of the Skaggs Institute, and colleagues discovered a new way by which DNA repairs itself, a process that is critical to the protection of the genome, and integral to prevention of cancer development.


Professor James Hoch and colleagues developed a new technique representing a quantum leap forward in understanding proteins. The group devised a computational method that, with remarkable accuracy, predicts how bacterial proteins fold and interact. The method should enable development of new antibiotics and other drugs.


My lab developed a new technique to tap the full potential of antibody libraries. Our group for the first time developed a new screening technique that enables antibody screening against equally massive libraries of targets. This technique makes it possible to accelerate searches for new treatments against cancer and other diseases.
Generous Gifts and Grants
Helping to insure our continuing vitality going forward, Scripps Research received a number of generous gifts and grants this year.
The Arlene & Arnold Goldstein Family Foundation gave $1.5 million to support efforts to develop the next generation of drugs to treat transthyretin amyloidosis. Transthyretin amyloidosis can lead to a number of medical problems, including decreased heart function. The gift made possible the hiring and support of an investigator designated the Arlene and Arnold Goldstein Assistant Professor of Molecular and Experimental Medicine.
Business executive and philanthropist Elizabeth M. Fago donated $1 million to Scripps Florida. This is the second million-dollar gift that Fago, one of the earliest and strongest supporters of the institute, has given to Scripps Florida. In recognition of her generous gifts and her longstanding support, the library in the new biomedical facility will be named The Elizabeth M. Fago Library.
In addition to many federal grants awarded to individual researchers and participants in consortia, the National Cancer Institute of the National Institutes of Health (NIH) awarded a $10-million, five-year grant to a new physics oncology center led by Professor Peter Kuhn. Research at the center aims to achieve a better understanding of the behavior of cancer cells during metastasis, the spread of cancer from a primary tumor to other sites throughout the body. This understanding is directly aimed at determining more effective methods to manage cancer.
Also, as part of a new initiative at the NIH, the Roadmap Transformative R01 Program, a pair of investigators, one on each coast, was awarded a five-year $3.9-million grant. Tom Kodadek, a professor at Scripps Florida, and Benjamin Cravatt, who is chair of the Department of Chemical Physiology, director of the Helen L. Dorris Child and Adolescent Neuro-Psychiatric Disorder Institute, and member of the Skaggs Institute at Scripps California, will use the grant to develop a new technology to accelerate the search for new protein ligands—compounds that bind to proteins and alter their function.
The Work of Many
The institute's remarkable accomplishments this year were made possible by the dedication of many individuals—donors, trustees, faculty, technicians, postdoctoral fellows, students, and staff. I extend my deepest thanks to all of you for sharing your knowledge, resources, and talents with the institute.
Best wishes for a happy, healthy, and rewarding 2010!
Sincerely,
Richard A. Lerner
Send comments to: mikaono[at]scripps.edu

---
"The institute's remarkable accomplishments this year were made possible by the dedication of many individuals."
— Richard A. Lerner
---