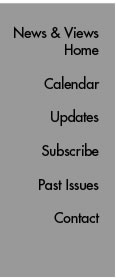 Etcetera
Sheng Ding's Stem Cell Breakthrough Named The Scientist's Top Innovation of 2009
The stem cell work of Sheng Ding, associate professor at The Scripps Research Institute and founder of Fate Therapeutics, has been named the top innovation of 2009 by The Scientist, a magazine of the life sciences. The work, published in Cell Stem Cell in April, found a method to convert adult cells all the way back to the most primitive embryonic-like cells without using the dangerous genetic manipulations associated with previous methods. The new technique solved one of the most challenging safety hurdles associated with personalized stem cell-based medicine, enabling scientists to make stem cells in the laboratory from adult cells without genetically altering them. For the full list of top ten innovations, see The Scientist.


Peter Wright Wins 2010 Stein and Moore Award
Peter Wright, chair of the Department of Molecular Biology, Cecil H. and Ida M. Green Investigator in Medical Research, and member of the Skaggs Institute for Chemical Biology at Scripps Research, has been selected to receive the Stein and Moore Award, sponsored by The Protein Society. Wright is receiving the award "for his studies in DNA bending, his work on specific transcription factor complexes, and his development of new NMR methods along with his investigation of conformational fluctuations and dynamics in the catalytic cycle of dihydrofolate reductase." According to The Protein Society, Wright is especially admired for the way he has selected protein science problems (such as how folding is coupled to biological function and catalysis) whose solutions will have broad significance and applicability for decades to come.
The award, named for Nobel laureates William Stein and Stanford Moore, will be presented on August 4, 2010, at the 24th Annual Symposium of the Protein Society in San Diego, California.


Wolfram Ruf Wins Recovery Act Grant
Professor Wolfram Ruf has won a grant from the National Heart, Lung, and Blood Institute of the National Institutes of Health (NIH). The $489,125 award, funded through the American Recovery and Reinvestment Act, will support a project titled, "Toward a Repertoire of Genetic Models for Coagulation Signaling in Chronic Inflammation." For more information, see the NIH press release.

Send comments to: mikaono[at]scripps.edu

Graham Johnson Awarded Prizes in "Celldance" Contest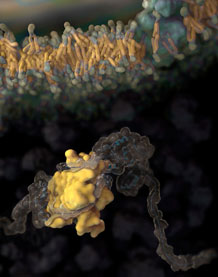 Graham Johnson, a graduate student in the Scripps Research Kellogg School of Science and Technology, working with author Sander Tans of the AMOLF Institute, won third place with this image in "Celldance 2009," the American Society for Cell Biology's annual film and still image contest. Called "Chaperone's Embrace," the image reveals how the folding pathway of a protein is altered by a chaperone molecule. Johnson was also a winner in the video category, taking second place for the animation, "ATP Synthase" he created for the textbook Molecular Biology of the Cell 4e/5e, Garland Press. To see all the Celldance winning images and videos, go to http://tinyurl.com/celldance09.