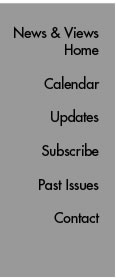 In Brief
Geneticist Norbert Perrimon to Speak as Part of the Distinguished Lecturer Series
Norbert Perrimon of Harvard Medical School and the Howard Hughes Medical Institute will speak on "Genetic Analyses of Developmental Systems Influenced by Environmental Changes" as part of the Society of Fellows' Distinguished Lecturer Series on Thursday, December 10, from 2 to 3 PM. The talk will be held in the Timken Amphitheater, Scripps Green Hospital, 10666 N. Torrey Pines Road, La Jolla. A reception will follow in the Beckman atrium.


Lunch & Learn: "A Passion for Growing"
Nan Sterman, expert gardener and author, will speak on "A Passion for Growing: A Workshop on Sustainable Gardening and Low-Water Landscaping," on Wednesday, December 9, from noon to 1 PM, as part of the ongoing Lunch & Learn seminar series for California employees. As one of California's leading garden authorities, during this lunchtime seminar Sterman will share how to: create colorful sustainable gardens; grow your own organic fruits, vegetables, and herbs; and remove lawn and replace it with plants that are beautiful with low water needs. The seminar, sponsored by the Office of Counseling and Psychological Services, will be held in the Keck Amphitheater, Beckman Building, La Jolla campus.


Don't Miss the Holiday Craft Fair
The once-a-year ScrippsAssists Craft Fair provides Scripps California employees with an opportunity to get some holiday shopping done and to support charitable efforts through employee volunteer group ScrippsAssists. This year, the event will be held on Thursday, December 10, from 11 AM to 1:30 PM, on the Immunology breezeway.
Look for booths selling orchid plants; jewelry; decoupage gift items along with Jalapeno pepper jam; photo albums, purses, quilted and sewn items; crafts made from wood; painted sea shells; catnip toys; candles; painted wine bottles and lamps; pottery, crocheted scarves and hats; amazing Amino Acid beads for making molecular jewelry; all-occasion cards, baby items, beaded flatware serving pieces; dolls, sandals; stone figurines and ceramics; out-of-this-world handmade chocolates, caramel apples, and cookies. You can pick out your favorite exhibitors ahead of time by viewing the Craft Fair flyer.
While you're at the Craft Fair, buy raffle tickets for $1 each to enter a chance to win prizes donated by the vendors and to raise money for ScrippsAssists activities. Prizes include: two $25 gift cards from Vons; two $25 gift cards from Ralphs; a $20 gift certificate for Andrew's Café and/or Purple Coffee Cart; five sets of four tickets to the Birch Aquarium; tickets to the San Diego Zoo; a goodie–filled gift basket from the San Diego County Credit Union; and the grand prize of two round-trip airline tickets for anywhere Southwest Airlines flies. There is no limit on the number of tickets you may buy and you do not need to be present to win.
Send comments to: mikaono[at]scripps.edu