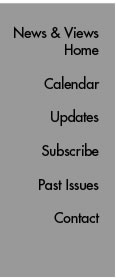 Etcetera
Scripps Research Ranked Number One in Chemistry
An article in The Times Higher Education places The Scripps Research Institute first in the world in chemistry, as measured by citations per paper. The data from Thomson Reuters' Essential Science Indicators showed that 2,152 Scripps Research papers published between January 1999 to June 2009 had an average of 35.37 citations per paper, more than Harvard University, California Institute of Technology, and Massachusetts Institute of Technology, which came in second, third, and fourth place, respectively.


Scripps Florida Construction and Design Wins Best of 2009 Award
Scripps Florida has won a Best of 2009 Award from McGraw Hill and Southeast Construction Magazine. The annual competition recognizes construction and design excellence in the four-state region that includes Florida, Georgia, North Carolina, and South Carolina.
The Scripps Florida project, submitted by the construction management joint venture of Weitz Company of West Palm Beach and DPR Construction of San Diego, won Best Higher Education/Research Project. Nearly 200 submissions vied for top honors in approximately 20 different categories, based on construction type. An independent jury of industry experts reviewed and scored the entries. All winning projects will be featured in the December 2009 issue of Southeast Construction and will be honored at a luncheon to be held at the Rosen Shingle Creek Resort in Orlando on December 9.


Paul Kenny Wins Jarvik-Russell Young Investigator Award
Scripps Research Associate Professor Paul Kenny has been selected as the 2010 Jarvik-Russell Young Investigator Award recipient by the Society for Research on Nicotine and Tobacco. This award is intended to recognize and honor scientists early in their careers who have made extraordinary contributions to the field of nicotine and tobacco research.
Kenny will receive the award at the Society for Research on Nicotine and Tobacco meeting in February.


Viruses, Plagues, and History: The Story Continues
A newly revised edition of Professor Michael Oldstone's book, Viruses, Plagues, and History: Past, Present, and Future, is now available.
The book, published by Oxford University Press, was first released in 1998 to positive reviews in the New York Times, Nature, and Science, as well as other publications, and was translated into five languages (Japanese, Chinese, Hungarian, Polish, and Spanish).
"Viruses constantly change, as do people," said Oldstone. "The new edition of my book contains chapters on SARS, West Nile Virus, and the bird flu, as well as addressing developments such as the use of smallpox as a bioterrorist weapon, the failure to eradicate polio, the emergence of mad cow disease in cattle in the United States and Canada, the discovery of the vector for Ebola and the origin of HIV, and the use of drug therapy to treat HIV."
Send comments to: mikaono[at]scripps.edu