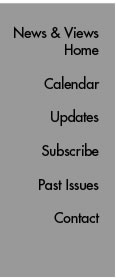 Etcetera
Bruce Beutler Elected to European Molecular Biology Organization
Bruce Beutler, chair of the Department of Genetics at The Scripps Research Institute, has been elected as an Associate Member (Foreign Associate) of the European Molecular Biology Organization (EMBO). Leading scientists are elected annually to EMBO based on proven excellence in research. Beutler's research focuses on finding genes that are required for normal immune function through germline mutagenesis and positional cloning.
"The election once again puts a spotlight on the most outstanding representatives of the current generation of life scientists," said EMBO Director Hermann Bujard. "We look forward to the fresh impulses this exceptional group will bring to our organization."
EMBO members provide their scientific expertise to the various programs coordinated by EMBO. They provide scientific input to the organization, participate in committees, nominate new members, mentor young scientists, and initiate new activities. Fifty EMBO members have received the Nobel Prize.


Crystal Moran Wins First Abrams Charitable Trust Award
Crystal Moran, a third-year graduate student in the Kellogg School of Science and Technology and member of the Deniz lab, has been named the first recipient of the Abrams Charitable Trust Award. The award provides support to an outstanding continuing student for educational and training activities.
"We appreciate that Jeff and Roz Abrams provided the funds to make this award available in perpetuity," said Wendy Keeney, vice president of Philanthropy. "Each year, a student will benefit from their generosity."

Send comments to: mikaono[at]scripps.edu

ScrippsAssists Honors Volunteers


A luncheon October 14 honored ScrippsAssists volunteers, including members of the Kuhn lab (above) who distributed flowers to patients at two cancer treatment locations as part of the American Cancer Society's Daffodil Days drive. In 2009, more than 250 volunteers participated in upward of 35 ScrippsAssists service events.