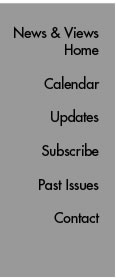 In Brief
John Tainer to Speak in Faculty Lecture Series
Professor John Tainer, professor in the Scripps Research Department of Molecular Biology, will speak on "DNA repair machines as genome guardians that provide predictive biology and insights for cancer interventions" as part of the Faculty Lecture Series on Wednesday, October 14, 2009. The lecture will take place in the Timken Amphitheater (Green Hospital), 10666 North Torrey Pines Road, La Jolla, at 5 PM, with a reception to follow in the Arnold and Mabel Beckman building, first floor. For more information, see Tainer's Faculty Lecture Series web page.


Career Workshop: "Guidelines for a Successful Postdoc Experience"
Cell Biology Professor and Chair Sandra Schmid will present a workshop on the steps and skills needed for productive postdoctoral training at Scripps Research on Wednesday, October 14, from 1:30 to 3 PM. Specific topics will include: goal setting and expectations, time management, networking, when to move on, and Scripps Research (and other) resources. The workshop, arranged by Schmid and the Career & Postdoctoral Services Office, will be held in the Keck Amphitheater, Beckman Center, La Jolla campus. All Scripps Research faculty, postdocs, and graduate students are welcome to attend. No RSVP required. Contact Ryan Wheeler, x4-9740, for more information.


Learn About "Mentoring and Diversity in Science"
Professor Saundra McGuire, director of the Center for Academic Success at Louisiana State University, will speak on "Mentoring and Diversity in Science," on Friday, October 16 at 12 PM. In addition to addressing topics such as the processes involved in mastery learning of science and the importance of programs that promote mentoring and diversity, this workshop will offer participants an opportunity to learn about local efforts to increase diversity and access to science, technology, engineering, and mathematics (STEM) mentoring programs.
The event, sponsored by the American Chemical Society, BIOCOM Institute, National Society for the Professional Advancement of Black Chemists and Chemical Engineers (NOBCChE), and Scripps Research, will be held in the Keck Amphitheater, Beckman Building, Scripps Research campus, 10550 North Torrey Pines Road, La Jolla, CA. To register for the workshop, go to the BIOCOM sign up page. For more information, contact BIOCOM's Kristie Grover, (858) 455-0300.


Open Enrollment Is Coming
Open Enrollment begins on Monday, October 26th and runs through Friday, November 6th, at 5PM Pacific Time. This is the annual opportunity for participants to make changes to their Scripps Research benefit selections and, if eligible, enroll or re-enroll in the Health Care and/or Dependent Care Spending Accounts for the 2010 plan year.
Once again, in a concerted effort to be environmentally friendly and to reduce mailing costs, all Open Enrollment communications including your new 2010 plan information is being sent via email, as well as being available for viewing on the Open Enrollment website. It is important to review the information provided in the Open Enrollment booklet regarding significant changes for the 2010 plan year. The booklet can be reviewed by clicking on the Open Enrollment website at https://www.scripps.edu/hr/benefits/oe2009.html.
Some things to keep in mind during Open Enrollment:
Beginning with the 2010 plan year, the Comprehensive PPO and Catastrophic plans will be administered by UMR, a division of United Healthcare rather than Principal Financial.
In addition, the network for both the Comprehensive and Catastrophic plans will be changing to United Healthcare (UHC) Options PPO.
The Comprehensive PPO premium will increase by $10 a month for all coverage levels.
New PPO Benefit cards will be mailed in late December for all enrolled participants.
The HMO plan will continue to be administered by Aetna and will see NO cost increase this year.
All plans will be updated to comply with the federal Mental Health Parity Act. Therefore, qualified mental health and substance abuse treatment will be considered the same as physical illness relative to coinsurance, copays, out-of-pocket maximums and day/visit limitations will no longer apply.
Please note if you are eligible and participated in the Health Care and/or Dependent Care Spending Accounts in 2009, you still must log on and elect a new deferral amount to participate in 2010. Your 2009 election WILL NOT roll over to 2010.
UMR will also be taking over administration of the Health Care and Dependent Care Spending Accounts. All claims for 2009 and 2010 submitted on or after January 1, 2010 should be sent to UMR.
Participants with questions regarding Open Enrollment should contact Benefits Administration at (858) 784-8487 or at benefits@scripps.edu.


HR Offers Free Flu Shots on Florida Campus
Human Resources will offer employees, research associates, and graduate students free seasonal influenza vaccinations on the Florida campus on Tuesday, November 10, from 9 AM to 5 PM. The clinic will be held in Building B, Classroom 159. Please bring a form of identification such as your Scripps Research ID, driver's license, or passport for check-in with the clinic staff administering the vaccines.
Please disregard a previous email announcement that stated the seasonal flu vaccine clinic would be held during the benefits fair and that shots would be administered to individuals who reserved a vaccine by reply. Please note the change in date, the fact that vaccines will NOT be administered during the benefits fair, and the updated information that you do not need to reserve a vaccination as they will be given on a walk-in basis on November 10, anytime from 9 AM to 5PM.
The seasonal flu vaccine is not anticipated to protect recipients from H1N1 flu. Scripps Research is monitoring developments regarding the availability of the H1N1 flu vaccination. When the H1N1 vaccine is made available, Human Resources will attempt to schedule an onsite vaccination clinic.
If you have any questions about this clinic, please contact Christine Ng-A-Fook, cngafook@scripps.edu or (561) 228-2036.
Send comments to: mikaono[at]scripps.edu