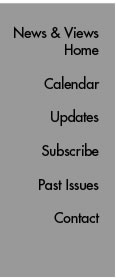 Etcetera

Graduate Students Win Prizes at Faculty Student Symposium
Prizes were awarded for the best talks and best posters at the Scripps Research Institute Kellogg School of Science and Technology's 2009 Faculty Student Symposium, held this year on September 11. Winners for the best talks were Damian Ekiert, Angeldeep Kaur, and Jun Shi. Winners for the best posters were Tian Sheng Mei, Denis Malyshev, Melissa Dix, and Crystal Moran.
"I want to thank all of the participants for making this an excellent symposium," said Professor James Williamson, dean of graduate and postgraduate studies. "I want to emphasize that ALL of the talks were excellent, and made for an interesting and scientifically exciting day. Each year after the retreat, I leave with a renewed sense of how special our program is, and this was a great year. Thanks to all of you who presented posters and participated in the discussion."

Eric Zorrilla to Speak at Reuben H. Fleet Science Center
Scripps Research Associate Professor Eric Zorrilla will speak on "Compulsive Eating & Addiction-like Neuroadapations" as part of the Reuben H. Fleet Science Center's Senior Mondays Afternoon Scholars lectures on Monday, October 5 from 12:30 to 2 PM. The lecture will take place in the William & Grayson Boehm Community Forum at the Reuben H. Fleet Science Center, 1875 El Prado, San Diego, CA 92101. Guests are encouraged to purchase lecture tickets by 11 AM and are welcome to enjoy the galleries before the lecture. Seniors 65 and older receive admission for $6 on Mondays. See the Fleet website or call (619) 238-1233 x808 for more details.
Send comments to: mikaono[at]scripps.edu

Stem Cell Awareness Day Brings Visitors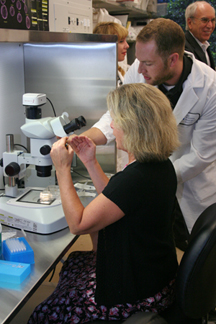 The Loring lab hosted an open house September 24 in honor of Stem Cell Awareness Day. Here, Kyle Nickey demonstrates a technique for visitors from the Juvenile Diabetes Research Foundation. (Photo by Kevin Fung.)
All Abuzz: Scripps Florida Team Spells Its Way to Victory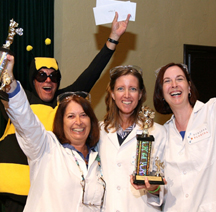 Scripps Florida's team took first place out of 23 groups of competitors on September 17 at the 18th annual Great Grown-Up Spelling Bee, an event that benefited reading programs at the Literacy Coalition of Palm Beach County. Here, Buzzby Book Bee looks on as team members Roberta Presser, a chief executive with the Bruner Domicile, Becky Mercer, a research associate in Scripps Florida's Translational Research Institute, and Lisa Huertas, a Scripps Florida development officer, celebrate their success.