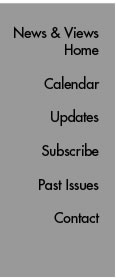 Etcetera

Scripps Research Investigators Win NIH Recovery Act Funds
To date, more than 80 Scripps Research Institute investigators have won supplemental grants made available by the National Institutes of Health (NIH) through the American Recovery and Reinvestment Act, the economic stimulus package passed by the 111th United States Congress in February 2009.
To see the investigators and their projects, go to http://projectreporter.nih.gov/reporter.cfm, check the box that says "Show only projects supported by NIH Recovery Act funds" and enter "Scripps" in the "Organization" field. For more information about NIH funding opportunities available through the American Recovery and Reinvestment Act, see http://grants.nih.gov/recovery/. To track all federal funds provided through the American Recovery and Reinvestment Act, visit www.recovery.gov.

Eric Zorrilla to Speak at Reuben H. Fleet Science Center
Scripps Research Associate Professor Eric Zorrilla will speak on "Compulsive Eating & Addiction-like Neuroadapations" as part of the Reuben H. Fleet Science Center's Senior Mondays Afternoon Scholars lectures on Monday, October 5 from 12:30 to 2 PM. The lecture will take place in the William & Grayson Boehm Community Forum at the Reuben H. Fleet Science Center, 1875 El Prado, San Diego, CA 92101. Guests are encouraged to purchase lecture tickets by 11 AM and are welcome to enjoy the galleries before the lecture. Seniors 65 and older receive admission for $6 on Mondays. See the Fleet website or call (619) 238-1233 x808 for more details.

Learn About "Mentoring and Diversity in Science"
Professor Saundra McGuire, director of the Center for Academic Success at Louisiana State University, will speak on "Mentoring and Diversity in Science," on Friday, October 16 at 12 PM. In addition to addressing topics such as the processes involved in mastery learning of science and the importance of programs that promote mentoring and diversity, this workshop will offer participants an opportunity to learn about local efforts to increase diversity and access to science, technology, engineering, and mathematics (STEM) mentoring programs.
The event, sponsored by the American Chemical Society, BIOCOM Institute, National Society for the Professional Advancement of Black Chemists and Chemical Engineers (NOBCChE), and Scripps Research, will be held in the Keck Auditorium, Beckman Building, Scripps Research campus, 10550 North Torrey Pines Road, La Jolla, CA. To register for the workshop, go to the BIOCOM sign up page. For more information, contact BIOCOM's Kristie Grover, (858) 455-0300.
Send comments to: mikaono[at]scripps.edu