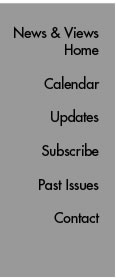 Etcetera

Enrique Saez Wins EUREKA Grant
Assistant Professor Enrique Saez has won a EUREKA grant from the National Institutes of Health (NIH) for "exceptionally innovative research on novel hypotheses or difficult problems, solutions to which would have an extremely high impact in biomedical or biobehavioral research." The grant, part of the NIH EUREKA (for Exceptional, Unconventional Research Enabling Knowledge Acceleration) program, is designed to help investigators test novel, often unconventional hypotheses or tackle major methodological or technical challenges. Saez's project aims to develop an innovative RNAi screening platform to make the technology accessible to the common research laboratory.
This is the second EUREKA grant awarded to the Scripps Research Department of Chemical Physiology. Benjamin Cravatt, the department's chair, won a EUREKA grant last year.

William Roush Named American Chemical Society Fellow
Scripps Florida's William Roush, professor of chemistry, executive director of Medicinal Chemistry, and associate dean, is among the American Chemical Society's (ACS) first class of fellows. According to former ACS president Bruce Bursten, the fellows "share a common set of accomplishments, namely true excellence in their contributions to the chemical enterprise coupled with distinctive service to ACS or to the broader world of chemistry." In his research program, Roush focuses on the total synthesis of structurally complex and biologically interesting natural products, development of new synthetic methods and strategies, and the solution of important problems in medicinal and bioorganic chemistry.

Nicole Steinmetz Wins Pathway to Independence Award
Research Associate Nicole Steinmetz of the Manchester lab has been awarded a K99/R00 Pathway to Independence award from the NIH. The award is designed to support the transition from postdoctoral trainee to independent scientist. Steinmetz's research lies in the field of viral nanotechnology and focuses on the development of "smart" targeted nanoparticle formulations for drug delivery and imaging.

Melissa Dix Wins California Breast Cancer Research Program Grant
Melissa Dix, a graduate student in the Scripps Research Kellogg School of Science and Technology who is working in the Cravatt lab, has been selected to receive a California Breast Cancer Research Program grant. The title of her project is "Substrate Profiling of Breast Cancer Related Proteases."

Christopher Kimberlin Awarded ACA Pauling Prize
Christopher Kimberlin, a Kellogg School graduate student in the Ollmann Saphire lab, has won the American Crystallographic Association (ACA) Pauling Prize for the most outstanding poster at the annual ACA meeting last month in Toronto. His poster was entitled "Structure of the RNA-binding domain of Reston ebolavirus VP35."
Send comments to: mikaono[at]scripps.edu

Peter Kuhn Reaches Out at Fleet Science Center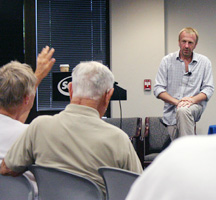 Professor Peter Kuhn speaks to an enthusiastic audience about his research on novel approaches for monitoring cancer cells. The August 3 talk was part of the Reuben H Fleet Science Center's Senior Mondays program. Photo by Kevin Fung.