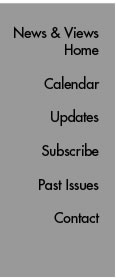 Etcetera

"Hot Paper" from Stevens Lab
A paper by Scripps Research scientists appears in the "What's Hot in Biology" list for July/August 2009, following appearances in the March/April and May/June lists (see http://sciencewatch.com/ana/hot/bio/09julaug-bio/). The top-10 list, which appears in ScienceWatch.com, a publication of Essential Science Indicators from Thomson Reuters, features papers published during the last two years most cited over a two-month period in journal articles indexed by Thomson Reuters. Research for the paper, "High-Resolution Crystal Structure of an Engineered Human β2-Adrenergic G Protein–Coupled Receptor" by Cherezov et al (Science 318 (5854): 1258 – 1265, Nov. 23, 2007), was led by Scripps Research Professor Raymond Stevens and Stanford University's Brian Kobilka (see http://www.sciencemag.org/cgi/content/abstract/1150577).

Claes Wahlestedt and Tom Bannister Win NIAAA Grant
Scripps Florida's Claes Wahlestedt, professor, and Tom Bannister, associate scientific director of medicinal chemistry at the Translational Research Institute, have won a two-year grant from the National Institutes of Health's National Institute on Alcohol Abuse and Alcoholism (NIAAA) through the American Recovery and Reinvestment Act. In the project, titled "Discovery and development of nociceptin receptor ligands in alcohol dependence," the researcher team will study new agents intended to curb alcohol craving by a novel, previously untried mechanism.

Chi-Huey Wong to Receive Honorary Degree from City University of Hong Kong
Scripps Research Professor Chi-Huey Wong will receive an honorary degree from City University of Hong Kong in recognition of his significant contribution to research and education and the wellbeing of society. Wong, who is also president of the Academia Sinica, Taiwan, was cited for "pioneering work on programmable chemical and enzymatic synthesis of complex carbohydrates [that] has provided a powerful platform to tackle important problems in the immune system, bacterial and viral infections, and cancer metastasis." The award ceremony will be held in November.

Heh-In Im Wins NIDA Postdoctoral Fellowship
Research Associate Heh-In Im, a member of the Kenny lab at Scripps Florida, has been awarded a postdoctoral fellowship from the National Institute on Drug Abuse (NIDA). The award will support Im's investigations of the role of noncoding RNAs in compulsive cocaine use.

Masayuki Wasa Wins Bristol-Myers Squibb Graduate Fellowship
Masayuki Wasa, a graduate student in Associate Professor Jin-Quan Yu's lab, has received a 2009-2010 Bristol-Myers Squibb Graduate Fellowship in Synthetic Organic Chemistry. According to Bristol-Myers Squibb, fellows are chosen based on "demonstrated academic and research achievements and their potential for significant future accomplishments." As a fellow, Wasa is invited to present at the Bristol-Myers Squibb Chemistry Awards Symposium hosted by the company in May 2010. Wasa's research has focused on the development of palladium-catalyzed C-H activation reactions for application in synthesis and drug discovery.

Peter Kuhn to Speak at Reuben H. Fleet Science Center
Scripps Research Professor Peter Kuhn will speak on "Novel Approaches to Monitoring Cancer Cells" as part of the Reuben H Fleet Science Center's Senior Mondays Afternoon Scholars lectures on Monday, August 3 from 12:30 to 2 PM. The lecture will take place in the William & Grayson Boehm Community Forum at the Reuben H. Fleet Science Center, 1875 El Prado, San Diego, CA 92101. Guests are encouraged to purchase lecture tickets by 11 AM and are welcome to enjoy the galleries before the lecture. Seniors 65 and older receive admission for $6 on Mondays. See the Fleet website or call (619) 238-1233 x808 for more details.
Send comments to: mikaono[at]scripps.edu

Wellington High Students Support Scripps Florida Breast Cancer Research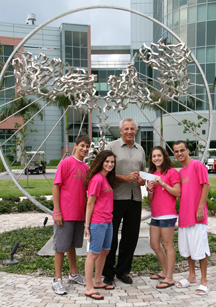 Students from the thinkPINKkids™ Club of Wellington High School recently presented $7,000 raised at a walkathon to support Scripps Florida's breast cancer research. Here, John Cleveland (center), chair of the Scripps Research Department of Cancer Biology, receives the donation from (left to right) Benjamin Aqua, Eliza Schlein, Lindsay Rosenthal, and Josh Hyber. "I find it inspiring that they understand the power of giving at such a young age and realize how effective they can be in helping change the lives of others," says Cleveland.