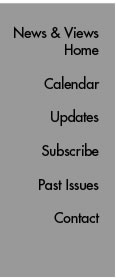 In Brief

Raymond Stevens to Speak in Faculty Lecture Series
Scripps Research Professor Raymond Stevens will speak on "Structure and Function of the Human G-protein Coupled Receptor Family" as part of the Faculty Lecture Series on Wednesday, May 13. The lecture will be held at 5 PM in the Timken Amphitheater, Scripps Clinic, 10666 North Torrey Pines Road, La Jolla.

Vendor Show 2009
The Scripps Research Society of Fellows (SOF) presents the annual Scripps California vendor show on Tuesday, May 12 from 9 AM to 3 PM. Vendors from more than 80 companies will be on the La Jolla campus in the Beckman and Molecular Biology buildings and the Immunology building plaza. Scripps Research faculty, students, postdocs, and staff are invited to come visit and network with the vendors, catch up on the latest technologies, ask questions, and get advice from the company representatives. Don't forget to pick up raffle forms from SOF representatives at the event, get stickers from vendors in each building, and turn in completed forms for a free Jamba juice. Those turning in completed raffle forms will also have a chance to win one of five SOF prizes of $100.

Reminder: 2009 Scientific Report Deadline Is May 15
The due date for faculty submissions for the 2009 Scientific Report is next Friday, May 15. Reports may be submitted either on CD or via email to Jann Coury, at mail drop TPC-30 or jcoury@scripps.edu. Either way, please also provide a printout of your report and images to your departmental administrator. Additional instructions are available in the guidelines at http://www.scripps.edu/news/sr/2009guides.pdf.

"Team TSRI" Places Second in 8K Race
Runners from Scripps Research were tough competitors in the Union-Tribune Race for Literacy in San Diego on May 2. As a team, Scripps Research runners placed second after the San Diego Race Club. As individuals, Associate Professor Juan Carlos de la Torre finished first in his age group and 17th overall with a time of 27:33. Chemical Physiology Chair Benjamin Cravatt was only 45 seconds behind with a time of 28:17, and graduate student Jonathan Long finished with an impressive 30:40 to round out the institute's top three. Other notables include Dean Jamie Williamson, who raced with an injury and still came in with a 33:59 time, graduate student Sanjeev Ranade (34:01), Professor Ray Stevens (35:55), Professor Steven Reed (36:14), Research Assistant Heather Schultheisz (36:43), fitness trainer Sara Haman (37:06), graduate student Stephen Chen (38:31), Research Technician Bethany Hazen (38:04), graduate student Joie Garfunkle (39:28), graduate student Joann Wu (41:42), Assistant Professor Peter Hedlund (45:24), and graduate student Crystal Moran (46:38).

Presenting "Scientists Wearing Wigs Performing Eight Short Plays"
Scripps Research drama group The Mobility Pond will perform "Scientists Wearing Wigs Performing Eight Short Plays" on Thursday, May 14, from 7 to 9 PM, and Friday, May 15, from 7:30 to 9:30 PM. All Scripps Research faculty, postdocs, graduate students, staff, and their friends are welcome. The plays are intended for mature audiences.
The event, sponsored by the SOF, will be held in the Committee Lecture Hall, Molecular Biology Building, on the La Jolla campus of Scripps Research. Appetizers will precede the show and a reception will follow. Admission is FREE, but you need a ticket to get in. For tickets, contact Geza Ambrus-Aikelin, x4-9136 or at ambrus@scripps.edu.

Bike to Work May 15
RideLink, a San Diego regional transportation assistance program sponsored by a consortium of local governments, has announced Bike to Work Day 2009 will be held Friday, May 15. Dozens of pit stops across the city will offer free bottled water and snacks in honor of the occasion. Visit www.511sd.com to register for the opportunity to win prizes (including a commuter bike, an official 2009 Bike to Work Day t-shirt, or a gift certificate) and to find out more about bicycling to work and other green commuting options.
Send comments to: mikaono[at]scripps.edu

Beverley Ransom Retires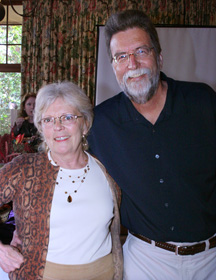 "I've been very fortunate," says Beverley Ransom, who is retiring this week after 26 years of service to the institute (shown here with Controller Don Landsman). "You don't stay in a job that long unless you want to."