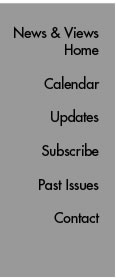 Etcetera

Scripps Research Wins CIRM Grants
Scientists from The Scripps Research Institute have been awarded grants in the latest round of funding from the state stem cell agency California Institute for Regenerative Medicine (CIRM). In this round of grants—which supports projects to translate basic research into clinical cures—Scripps Research received more funds than any other institution.
The Scripps Research grants were made to:
Professor Jeanne Loring, who was awarded $6.3 million for a project titled, "Ensuring the safety of cell therapy: a quality control pipeline for cell purification and validation."
Professor Martin Friedlander, who was awarded $5.9 million for a study titled, "Autologous Retinal Pigmented Epithelial Cells Derived from Induced Pluripotent Stem Cells for the Treatment of Atrophic Age Related Macular Degeneration."
In addition Darryl D'Lima, who is director of the Orthopaedic Research Laboratories at Scripps Health and an assistant professor at Scripps Research, will receive $3.1 million for a study titled, "Stem Cell-Based Therapy for Cartilage Regeneration and Osteoarthritis."
For more information, see the CIRM website.
Send comments to: mikaono[at]scripps.edu

Effort to Develop Biofuels from Algae Gains Momentum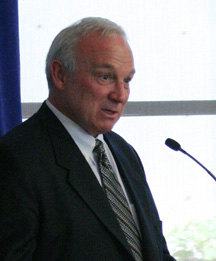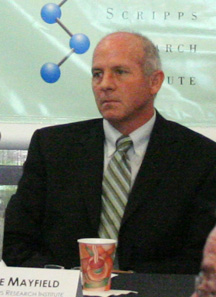 San Diego Mayor Jerry Sanders (top), University of California San Diego Chancellor Marye Anne Fox, and industry leaders gathered April 28 to announce their support of the San Diego Center for Algae Biotechnology (SD-CAB). Scripps Research Professor Stephen Mayfield (bottom), associate director of the center, said, "What's needed to make algae a commercially viable source of biofuel is for scientists to identify and optimize microalgae to enhance their yields and their production of biofuel. That's why the basic biological research of the institutions on the Torrey Pines mesa and the collaboration with local biotechnology industries within SD-CAB is so critical."