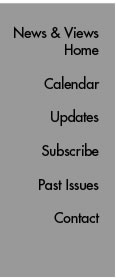 In Brief

Spring Grantsmanship & Funding Fest
The Scripps Research Society of Fellows and San Diego Postdoc Training Consortium is hosting the 2009 Spring Grantsmanship & Funding Fest. Events include:
"Funding Opportunities from the NIH & NSF," on Thursday, April 30, 4 PM, at the Scripps California campus, Keck Amphitheater. Presenters include: George L. Kenyon, program officer in the Chemistry Division of the National Science Foundation, Anthony D. Carter, program director in the Division of Genetics &Developmental Biology at the National Institute's of Health's (NIH) National Institute of General Medical Sciences (NIGMS).


"K99/R00 Panel," on Friday, May 1, noon, Salk Institute, Frederic de Hoffman Auditorium. Panelists include: Anthony D. Carter, program director in the Division of Genetics & Developmental Biology, NIGMS/NIH; Sandra Schmid, professor and chair, Scripps Research Department of Cell Biology; and Lars Bode, staff scientist at Burnham Institute and K99/R00 Pathway to Independence Award Recipient
No RSVP is required for either event; seating is first come, first served. Refreshments will be provided .

Got Manuscripts?
Do you need to have your fellowship application or manuscript reviewed? Editors are ready to look over your drafts!
The Career & Postdoctoral Services coordinates a volunteer peer editing service, the Scripps Research Council of Scientific Editors, to help Scripps Research postdocs and graduate students on both campuses write high quality papers and fellowships. This program is a result of feedback from graduate students, faculty, and postdocs during the institute's reaccreditation process.
The Career & Postdoctoral Services Office matches requests for editing based on reviewer expertise and availability. To have your manuscript or fellowship reviewed:
Send an email to rwheeler@scripps.edu with your name, position (postdoc/grad student), department, lab, scientific area, and brief description of your submission.
Attach your document to the email.
The Career & Postdoc Office will attempt to match your request to an available reviewer with similar scientific and/or proposal expertise.
The editor will contact you to discuss your document (generally within one week).
The Scripps Research Council of Scientific Editors is intended to supplement, not supplant, the scientific communication mentoring that trainees receive from their advisors, by formalizing an additional review option benefiting both the volunteer peer reviewers and the researchers who use the service. There is no charge for the service and the program duration is indefinite.
Send comments to: mikaono[at]scripps.edu

Earth Day Rocks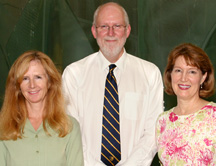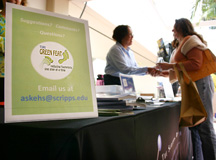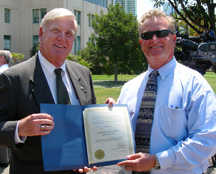 Scripps Research marked Earth Day with a number of activities. Top: Emily Holmes (left) and Denise Daggett of Scripps Research welcome Vice Chancellor Steve Relyea of UCSD, who spoke on "Sustainability 2.0" on April 21. Center: Scripps California employees learn about conservation and environmentally friendly practices at the Earth Day expo on April 22. Bottom: Jim Gohres (right) of EH&S accepts a Special Commendation Certificate of Appreciation on behalf of Scripps Research from San Diego County's First District Supervisor Greg Cox in recognition of the institute's home e-waste recycling event for employees on April 23.