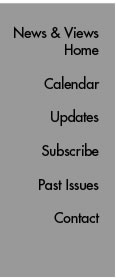 Cancer Biology Department Awarded More than $8 Million in New Research Grants
By Eric Sauter
The Scripps Research Institute's Department of Cancer Biology has been awarded more than $8.4 million in multiple grants by the National Institutes of Health (NIH) and the U.S. Department of Defense. The grants will be used to study topics ranging from prostate cancer to the production of T lymphocytes, the cells that provide immune surveillance for cancer.
"The fact that our scientists have been so successful in winning these awards speaks volumes for the high caliber of research being performed at Scripps Florida and in the Department of Cancer Biology," said John Cleveland, chairman of the department, which is located on the Jupiter, Florida campus of TSRI. "During these times when funding is so tight, to have so many of our investigators be given awards is remarkable."
The grants, from the NIH and the Department of Defense, included the following awards:
Professor Howard Petrie received a pair of grants from the NIH worth a total of $4.3 million dollars over the next five years.

Dr. Petrie's first grant (approximately $2.4 million) studies how a gene known as Notch3 that controls the development and production of T lymphocytes, white blood cells whose development starts in the bone marrow but is completed in the thymus, and then attack infectious agents as well as cancer cells. Dr. Petrie and his colleagues have discovered that inactivation of Notch3 results in an accelerated, age-related decline in the ability of the bone marrow to replenish T lymphocytes; Notch3 has also been implicated in another age-related degenerative disorder, relating to stroke. Dr. Petrie's goal is to understand how Notch3 normally prevents this aging of the immune system, and how Notch3 functions in general in blood cells as well as other tissue types.

Decreases in T cell immunity are a direct consequence of age-related degeneration of the thymus, a process that has been linked to premature aging of stromal cells (which form the supportive framework of the thymus and other organs). Using an experimental model of thymus regrowth, Dr. Petrie and his colleagues will seek to identify the changes in gene expression that occur after induction of regrowth, and to recapitulate these through pharmaceutical approaches for thymus regeneration therapy.


Cleveland received a five-year grant (approximately $2.1 million) from NIH/NCI to study the regulation and role of the enzyme ornithine decarboxylase (Odc). This enzyme plays key roles in cancer and is directly regulated by cancer-causing Myc oncoproteins and also by mutated Ras oncogenes, which together are activated in more than 80 percent of all human tumors. This new study focuses on defining the various roles of Odc in regulating the development of lymphoma, lung, and breast cancer, and determining how Odc regulates the proliferative response induced by oncogenes. Cleveland hopes that these studies will reveal new targets for cancer prevention and treatment.


Assistant Professor Jun-Li Luo received a three-year grant (approximately $430,000) from the U.S. Department of Defense to study the interaction between cancer stem cells and immune/inflammatory cells during the growth and progression of prostate cancer. In a study published in a 2004 issue of the journal Cancer Cell, Luo and colleagues developed a novel strategy to fight the disease, turning the body's inflammatory response, which under normal circumstances encourages tumor growth, into a cancer-killing machine. In 2007 Luo published an article in Nature that established links between the nuclear factor NF-κB and the spread of prostate cancer in animal models.
In addition to these funds, investigators in the Department of Cancer Biology were awarded a four-year grant (approximately $1.6 million) from NIH's National Institute of General Medical Science to study the structural dynamics of vinculin, a cytoskeletal protein that plays key roles in controlling cell-cell and cell-matrix adhesion complexes, as well as cell migration and cancer metastasis.
Send comments to: mikaono[at]scripps.edu

---
"During these times when funding is so tight, to have so many of our investigators be given awards is remarkable."
—John Cleveland
---