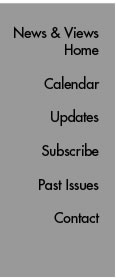 Etcetera

Ming Chen Wins Graduate Fellowship from Anonymous Donor
Ming Chen, a graduate student in the Kellogg School of Science and Technology and mentor in the high school Summer Intern Program on the Scripps Research Institute's Florida campus, has been awarded a fellowship supported by an anonymous donor. Chen, who earned a B.S. from Nanjing University and M.S. from Brown University and who has work experience at Novartis and Bayer-Schering, is a member of the Roush laboratory focusing on the development of new synthetic methodology and the synthesis of biologically active natural products.

Paul Johnson Wins Bank of America Fellowship
Paul Johnson, a graduate student in the Kenny laboratory at Scripps Florida, has been selected to receive a Bank of America Charitable Foundation Fellowship, which "provides support for research of a graduate student at Scripps Florida who has demonstrated exceptional scientific ability." Johnson's dissertation work is centered on understanding the role of brain reward pathways in obesity.
Send comments to: mikaono[at]scripps.edu

Students See Science Up Close at Scripps Research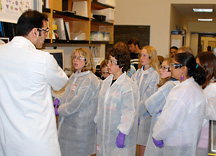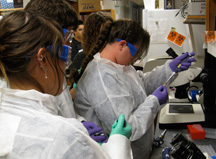 Two groups of students visited the Scripps Research campus in La Jolla, California, recently, touring labs and participating in science-related activities and demonstrations. Top: A group of 72 sixth graders from Flora Vista Middle School visit the Torbett lab. Bottom: As part of the San Diego Science Festival's Science on the Mesa night, a group of 20 students from Mar Vista High in Imperial Beach get familiar with lab procedures.