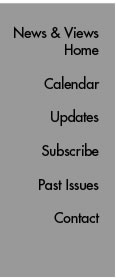 In Brief

La Jolla Historical Society Event: "From Metabolic Clinic to The Scripps Research Institute"
As part of its Emergence of Pioneering Scientific Institutions in La Jolla series, the La Jolla Historical Society will host "From Metabolic Clinic to The Scripps Research Institute," featuring lectures by Scripps Research Professor Michael Oldstone and Professor Emeritus Charles Cochrane, on Tuesday, March 17, at 7 PM. Admission to the event, which will be held in James Hall, 7776 Eads Ave, La Jolla, is free to La Jolla Historical Society members, $15 for non-members. To reserve seats, email info@lajollahistory.org with the number of tickets you'd like and the name of the lecture, or call 858-459-5335 x101.

Library Tip: AuthorMapper.com
AuthorMapper is a free online tool for visualizing scientific research. Search results allow you to discover other researchers, institutions, and journals in a particular subject area. Graphs, timelines, and other visual aids are also featured. The site searches the Springer Journal collection, which contains around 1,900 titles, so while the search is not comprehensive, it is an interesting application from the second largest science publisher.
Here's a sample search using the subject "polymer sciences" and the institution "The Scripps Research Institute." Under search results are four clickable tabs: articles, authors, institutions, and journals. Along the left-hand side, a keyword cloud appears (top keyword = structural proteomics), as well as a graph of the years published (top year = 2007), top published authors (most published = Peter Wright), and journals (top journal = Journal of Biomolecular NMR).
Comments or questions? Contact the Kresge Library at x4-8705 or helplib@scripps.edu.

ScrippsAssists Spreads Word About Relay for Life
ScrippsAssists, the Scripps Research employee volunteer group, joins in helping The American Cancer Society spread the word about Relay for Life, the American Cancer Society's signature activity. Relay for Life is an overnight team event that raises awareness of cancer in the community and raises funds to fight cancer. Teams of friends, families, and co-workers commit to keeping at least one member walking the track – because cancer never sleeps. The event features two memorable ceremonies: a Survivor's Lap, where cancer survivors from the community walk in celebration of their survivorship while the rest of the participants cheer them on, and a Luminaries Ceremony, where participants honor survivors and remember those who have lost the battle with the disease. Relay events are planned all over San Diego County on different upcoming dates. If you are interested in learning more, see the Relay for Life website or contact Sara Haemmerle at the American Cancer Society, sara.haemmerle@cancer.org or 619-299-4200.
Send comments to: mikaono[at]scripps.edu